Moamer Kadhafi's son said on Thursday victory was in sight against rebels fighting his father's iron-fisted regime after loyalist forces retook two key towns and Western powers fretted over how to deal with the civil war while tightening the screws further.
France and Britain agreed that Kadhafi "must go" and called on the EU to consider the country's rebel national council a valid political interlocutor, French President Nicolas Sarkozy's office said.
But with the military balance apparently shifting, Kadhafi's son Seif al-Islam trumpeted, "We're coming," referring to the advance of government forces towards the eastern rebel bastion of Benghazi.
"I send a message to our brothers and friends in the east who are sending us daily calls for help and asking us to rescue them: we're coming," he told a meeting of young regime supporters.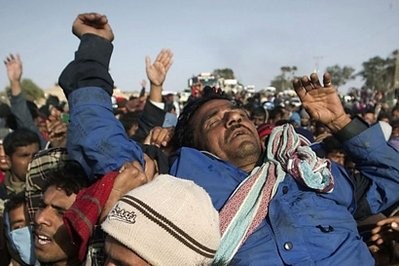 A unconscious refugee (C) is carried as they demonstrate to ask for food and aid, at the Choucha refugee camp, near the Tunisian border town of Ras Jdir
"Victory is in sight. Victory is near," he told the exuberant youths. "I swear before God that we're going to win."
Earlier, in an interview broadcast on Britain's Sky News and BBC TV, Seif said the regime would "never surrender" to the rebels and did not fear foreign intervention.
"We are not afraid of the American fleet, NATO, France, Europe. This is our country. We live here, we die here. We will never, ever surrender to those terrorists," he insisted.
The momentum in the conflict is shifting in favour of Kadhafi's forces who are "robustly equipped" with Russian weapons and likely to defeat the rebels, US officials said.
"Initially the momentum was with the other side," Lieutenant General Ronald Burgess, director of the Defence Intelligence Agency, told US senators.
"That has started to shift. Whether or not it has fully moved to Kadhafi's side at this time is not clear. We have now reached a state of equilibrium. The initiative may be actually be on the regime side."
With its fighters in retreat, the opposition appealed to Western powers meeting in Brussels to follow France's lead in recognising their national council.
In Washington, White House spokesman Jay Carney said the United States was in "direct contact" with senior opposition figures, including members of the rebel national council.
"We are coordinating with the opposition, with the council to provide assistance and to determine the best ways we can support their aspirations," he added.
But Carney added that Washington was still trying to get a sense of "what their vision is, who they represent, what their ideas are and where they would take Libya."
The United States said it would soon send civilian humanitarian aid teams into eastern Libya while stressing that the step should not be seen as any kind of military intervention.
Targeted by rocket fire, rebels fled from Ras Lanuf, a strategic coastal oil town in eastern Libya they captured last Friday, AFP reporters said.
A hospital official in Brega, about 85 kilometres (52 miles) further east along the Mediterranean coast, said: "We have four dead and 35 wounded, but there's still many more coming" in from Ras Lanuf.
Medics say 400 people have died and 2,000 more been wounded in eastern Libya since February 17.
Libyan security forces on Thursday freed a Brazilian reporter detained since March 2 but held on to an award-winning Iraqi journalist working for a British newspaper, their employers said.
State television said Ras Lanuf had been "purged of armed bands" and that government forces were pushing on towards Benghazi, Libya's second largest city.
On the battlefield, rebel vehicles streamed eastward from Ras Lanuf after hours of heavy shelling and rocket attacks.
In the west, an intense battle for control of Zawiyah, the site of major oil installations 50 kilometres west of Tripoli, ended in victory for Kadhafi's forces on Wednesday night.
"The town is now under the army's control," said a resident by telephone on Thursday.
Rebels overran Zawiyah soon after a popular uprising erupted against Kadhafi on February 15, and the city had been under assault for several days by artillery and tanks.
In Brussels, NATO and the European Union were meeting on Thursday and Friday to ponder military and economic options against Kadhafi, which could include a no-fly zone, humanitarian aid and economic props.
A source close to Sarkozy, who asked not to be named, said the French president will propose "striking an extremely limited number of points which are the source of the most deadly operations" by Kadhafi loyalists.
The sites being considered are Kadhafi's Bab al-Azizia command headquarters in Tripoli, a military air base in Sirte, east of Tripoli and another in Sebha in the south, the source added.
The president's office declined to confirm the claim when contacted by AFP.
France, which on Thursday recognised the rebel national council, has seized the initiative in pressure against Kadhafi and has been working with Britain to lobby for a UN Security Council imprimatur for a no-fly zone.
The United States wants any military action conducted under the banner of the North Atlantic Treaty Organisation, with Arab regional backing seen as essential.
In Washington, the director of US national intelligence, James Clapper, said "the Libyan air defence structure on the ground, radar and surface-to-air missiles, is quite substantial."
NATO chief Anders Fogh Rasmussen said that "if there is a demonstrable need, if we have a clear mandate and strong regional support, we stand ready to help."
He told a news conference "it has been decided to increase the presence of NATO maritime assets in the central Mediterranean" to bolster surveillance of Libya and monitor an arms embargo.
However, there was no decision to launch a no-fly zone -- opposed by Germany -- with the alliance endorsing further military planning if the United Nations endorsed the move.
The ministers also called for urgent "detailed planning" for humanitarian efforts and for possible measures to enforce the arms embargo if called on by the Security Council, Rasmussen said.
The rebel national council, the Gulf Cooperation Council (GCC) and the Organisation of the Islamic Conference, a grouping of Muslim countries, have already called for a no-fly zone.
Arab states in the Gulf said on Thursday that Kadhafi's regime was illegitimate and that contacts should be initiated with the rebels.
In other developments, Greece announced that a plane was on the way to Tripoli to collect three Dutch soldiers freed after being captured last month in a botched attempt to evacuate two civilians by navy helicopter.
Elsewhere in the volatile Middle East, Saudi police shot and wounded three Shiite protesters in the oil-rich Eastern Province on Thursday while trying to disperse a protest calling for the release of prisoners, a witness told AFP.
The incident came as the OPEC kingpin braced for street protests on Friday after calls on Facebook and Twitter.
Yemen's President Ali Abdullah Saleh, meanwhile, bowed to pressure after a month of violent protests, but his pledge to devolve power to parliament was swiftly rejected as too late by the opposition.
World oil prices dived on Thursday, despite jitters over the Libyan unrest on the eve of the protests in Saudi Arabia.
New York's main contract, light sweet crude for delivery in April, tumbled $2.94 to $101.44 a barrel. Brent North Sea crude for April slid $1.80 to $114.14 per barrel.