Kenya's electoral board was expected to announce Sunday the winner of the presidential election amid claims of vote rigging and riots as the lead of opposition candidate Raila Odinga evaporated in the slow ballot counting.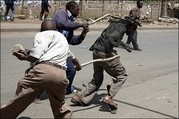 AFP Photo:

A supporter of presidential candidate Raila Odinga(R) is beaten by two supporters of presidential candidate...

The delay in counting the ballots in Thursday's election sparked violence nationwide, which claimed at least three lives on Saturday, as angry Odinga supporters accused incumbent President Mwai Kibaki of rigging the vote results.

Electoral Commission of Kenya (ECK) chief Samuel Kivuitu said Saturday that the latest count showed Odinga's once clear lead of over 300,000 votes had melted away to less than 40,000 votes, with just 19 out of the 210 constituencies left to report.

Odinga had held the edge over Kibaki in nearly all pre-election opinion polls and enjoyed a clear lead in the early counting, and voters dealt Kibaki's Party of National Unity a series of stinging defeats in parliamentary elections also held on Thursday.

The 76-year-old Kibaki, seeking a second term, has campaigned on the strong growth Kenya experienced during his five years in office.

Odinga, a flamboyant 62-year-old former political prisoner, has sought to become the first candidate to oust a sitting Kenyan president by arguing that the country's economic growth has not benefited many Kenyans.

A later ECK news conference quickly deteriorated into a shouting match with representative's of Odinga's Orange Democratic Movement accusing Kibaki's camp of rigging the results.

Odinga supporters then hit the streets in Nairobi and across the country, looting and starting fires despite calls from their party and observers to exercise restraint.

"There are riots all over the country, except a few areas, but there is sufficient security to maintain law and order," a top police official told AFP.

Hundreds of opposition supporters faced off with riot police in the massive pro-Odinga Nairobi slum of Kibera, shouting "No Raila, No Kenya!" and "We want our rights!"

Police fired live shots in the air to disperse mobs, while water cannons doused the flames of shops and houses set ablaze by demonstrators.

Protestors also lit bonfires, set up rogue roadblocks and looted shops in several Odinga bastions across the country, including Kisumu, Kakamega and Eldoret, police and witnesses said.

"They want to steal votes. They are counting votes from regions favouring Kibaki and then they want to declare him the winner. We do not want violence, we want our rights," said one protester in Kisumu, Peter Oduor.

Police shot dead two demonstrators while dispersing crowds in Eldoret, while another man was shot dead in a protest in the western Migori township. Police said six people had been killed since polling day on Thursday.

Following the outbreak in violence the ECK said it would verify results overnight Saturday before announcing further results on Sunday.

An election official told AFP Sunday that it had received all remaining results except for several precincts where problems had occurred.

Odinga's camp has accused the government of deliberately slowing down the counting process to leave time for results to be rigged.

Election officials have also yet to say how many of Kenya's roughly 14 million registered voters cast ballots, although turnout was expected to have exceeded the 57 percent in the 2002 election.

According to provisional results, voters ousted from parliament nearly three-quarters of Kibaki's cabinet, including Vice President Moody Awori, as well as the three sons of former dictator Daniel arap Moi.