Kenyans flocked to the polls Thursday in the nation's closest-ever presidential race, with the ageing incumbent and a fiery opposition leader neck-and-neck and tensions simmering over alleged fraud.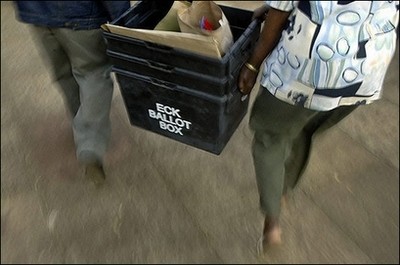 Electoral Commission of Kenya officials make final preparations at a polling centre in the Kenyan capital Nairobi (Photo: AFP)
Mwai Kibaki, 76, is seeking a second term, boasting a solid economic record and continued stability, while former political prisoner Raila Odinga, 62, aims to clinch the job that has eluded him and his father for so long.

For the first time since the 1963 independence from Britain, Kenya's 14 million voters headed to the country's 27,000 polling stations with no certainties on the winner's identity.

Hundreds of people were already lining up in the dark when the first polling stations opened at 6:00 am (0300 GMT) and where voting was late to start, causing impatience among voters keen to cast their ballot.

"I slept here because I want to ensure that there is no rigging. We want to vote for change, for change," said Robert Kipkurui, a voter in the western Rift Valley town of Eldoret.

"I expect a great turnout because people are desperate for change and I hope we will have a free and fair election. I can see change coming," said another voter at the capital's Holy Family Basilica.

Heavy rains in the northern Mount Kenya and the late arrival of polling equipment and staff in some other areas occasionally delayed the voting, AFP correspondents reported.

After lavish campaigns on both sides, the run-up to Kenya's fourth elections since a multi-party system was reintroduced was marred by opposition accusations that Kibaki's camp was planning to rig the ballot.

"I've appealed to President Kibaki to prevail on his agents against election rigging acts that could plunge this country into bloodshed ... My appeal has gone unheeded," Odinga said on Tuesday.

Moments later, angry mobs of his supporters in western Kenya attacked administrative police deployed across the country, accusing them of carrying stuffed ballot boxes.

Three policemen died and 10 were wounded, while a dozen demonstrators were injured when riot police broke up a demonstration with tear gas, heightening fears that voting day could be disrupted by violence.

Kibaki on Wednesday denied allegations of state-engineered rigging and said a smooth voting process would be guaranteed by 65,000 security forces and some 30,000 local and international observers.

Police had reported no major incidents three hours after polling started, and key political leaders voting in their constituency all called for restraint and calm.

"I am calling on Kenyans to maintain peace and vote wisely," said Daniel arap Moi, Kenya's former dictator who was ousted by Kibaki in the country's first truly democratic election in 2002 but now supports his re-election bid.

Kenya is considered a beacon of democracy and stability in a region plagued by conflicts, but it has a history of electoral violence and observers have feared that escalating tribal rhetoric could lead to communal strife.

Final opinion polls released last week gave Odinga 43 to 45 percent, ahead of Kibaki's 36.7 to 43 percent. Only a survey conducted by US pollster Gallup showed Kibaki on top, with 44 percent to Odinga's 43 percent.

Voting in the port of Mombasa, Kenya's second city, a top official from Odinga's party voiced his confidence that the opposition would remain on top.

"We are confident we are going to win. Raila Odinga leadership is going to transform Kenya to a second world country and eventually a first world," he said.

There are few noticeable ideological differences between the two frontrunners but financial circles lean towards Kibaki, under whose tenure Kenya's economy -- the region's largest -- has expanded by an average of five percent a year.

While Odinga has cast himself as the candidate of change and the champion of the poor, Kibaki has advocated continuity despite being criticized for failing to tackle corruption and deliver constitutional reforms.

Kalonzo Musyoka, a 54-year-old born again Christian who was in Odinga's party until a few months ago, is the third man in the race, while six other candidates are expected to record negligible scores.

Kenyans are also electing 210 members of parliament and more than 2,000 local councilors, with some observers predicting that increasingly demanding voters could vote out up to 70 percent of sitting MPs.