Cambodia's UN-backed war crimes court on Monday opened the trial of four top leaders of the brutal Khmer Rouge accused of genocide and other atrocities in the late 1970s.
The elderly defendants, including "Brother Number Two" Nuon Chea and former head of state Khieu Samphan, looked frail as they sat in the dock.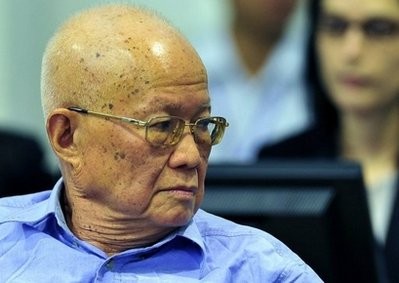 A photo issued by the Extraordinary Chamber in the Courts of Cambodia shows former Khmer Rouge head of state Khieu Samphan during a hearing at the court in Phnom Penh.
"The (court) opens the initial hearing of case 002," chief judge Nil Nonn told the court before proceeding to list the charges against the accused.
In its first trial, the tribunal sentenced former prison chief Kaing Guek Eav to 30 years in jail last July for overseeing the deaths of 15,000 people.