HOLLYWOOD (AFP) – Royal drama "The King's Speech" has taken three of the top Academy Award prizes, including best actor for Colin Firth.
The movie took the coveted best picture and best director awards as well as Firth's gong for his portrayal of a stammering King George VI, helped by an Australian voice coach to rally wartime Britain.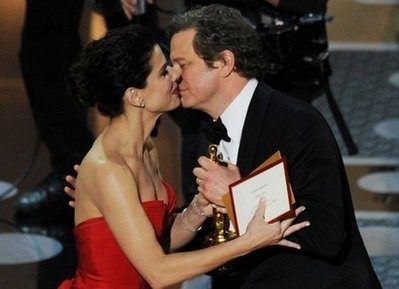 Royal drama "The King's Speech" has taken three of the top Academy Award prizes, including best actor for Colin Firth. AFP
It also won best original screenplay, giving the film four Oscars overall -- the same as hi-tech thriller "Inception" and one more than Facebook movie "The Social Network", which had been tipped as a possible best film winner.
Screenwriter David Seidler used his acceptance speech to jokingly thank Queen Elizabeth II, among others, as well as stutterers everywhere.
"I would like to thank Her Majesty the Queen for not putting me in the Tower of London" for putting swear words in George VI's mouth. "And I accept this on behalf of all the stutterers throughout the world.
"We have a voice, we have been heard," said Seidler, who himself suffered from a stammer, echoing a key line from the movie.
"The Social Network" which had been nominated in eight Oscars categories, ended up going home with only three, and none of the major ones: film editing, original score and adapted screenplay for screenwriter Aaron Sorkin.
Sorkin paid tribute afterwards to Facebook founder Mark Zuckerberg, whose portrayal in the movie is not overly flattering. "I think he's been an awfully good sport about this.
"I don't know if any of us want to have a movie made about when we were 19," he told reporters.
"Inception", starring Leonardo DiCaprio as a hired hand who penetrates people's dreams to order, won four Oscars: cinematography, visual effects, sound mixing and sound editing.
Natalie Portman won best actress for her role in disturbing ballet thriller "Black Swan".
Boxing movie "The Fighter" took two gongs -- best supporting actor for Christian Bale, and best supporting actress for Melissa Leo, who had both been favorites to win.
"King's Speech" director Tom Hooper related the extraordinary story of how he only came to make the movie thanks to the help of his Australian mother, who was in the audience.
"My mum in 2007 was invited by some Australian friends -- she's Australian -- in London, to a fringe theatre play reading of an unproduced, unrehearsed play called 'The King's Speech'," said the 38-year-old Brit.
He explained: "She's never been invited to a play reading her entire life before. She almost didn't go because it didn't sound exactly promising, but thank God she did.
"She rang me up after, said, Tom, I think I found your next film. So, with this tonight, I honor you and the moral of the story is, listen to your mother."
In other prizes, "Toy Story 3", the third instalment of the family-friendly franchise starring Woody, Buzz Lightyear and co. won best animated feature Oscar as expected.
And the best foreign film prize went to "In a Better World" by Denmark's star director Susanne Bier, who vanquished movies from Algeria, Canada, Greece and Mexico.
The Oscars is the culmination of the multi-billion movie industry's awards season and has been preceded by months or frantic campaigning for the coveted gold statuettes.
Firth, who had seen as a shoo-in for best actor, made one of the typically self-deprecating acceptance speeches, opening up with: "I have a feeling my career's just peaked.
"I'm afraid I have to warn you that I'm experiencing stirrings, somewhere in the upper abdominals, what are threatening to form themselves into dance moves," he went on.
These urges, "joyous as they may be for me... would be extremely problematic if they make it to my legs before I get off stage," he added, to laughter.
He won over Jeff Bridges -- who beat Firth to the best actor Oscar last year -- in "True Grit", Jesse Eisenberg in "The Social Network", James Franco in "127 Hours" and Spanish heart-throb Javier Bardem in "Biutiful".
Portman's rivals for best actress were veteran Annette Bening in "The Kids Are All Right," Australia's Nicole Kidman for "Rabbit Hole", Jennifer Lawrence in "Winter's Bone" and Michelle Williams in "Blue Valentine".