The Gulf state of Kuwait on Friday urged a halt in

Syria

's deadly crackdown on pro-democracy protesters and called for dialogue and "true reforms" to end the crisis.
"The state of Kuwait expresses its extreme pain for the continued bloodshed among the brotherly Syrian people," said a statement by a foreign ministry official cited by state news agency KUNA.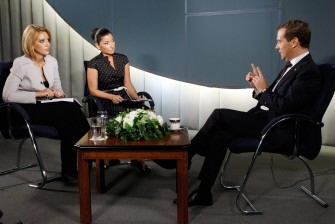 Russian President Dmitry Medvedev (R) gestures during an interview to representatives of TV channels Russia Today on August 5, 2011. Russian President Dmitry Medvedev called the situation in Syria dramatic and expressed enormous concern over the violence in the country
"Kuwait calls for dialogue and a political solution to allow implementing true reforms that meet the legitimate demands of the Syrian people away from the security actions," said the unnamed official.
The statement came after continued protests and demands by MPs for the Kuwaiti government to condemn the military crackdown in Syria and to expel the Syrian ambassador.
Islamist MPs and their supporters plan to hold a rally late Friday in solidarity with Syrian people despite scorching heat in this Arab desert state.