President Kurmanbek Bakiyev's Ak-Zhol party was in the lead in the weekend legislative election with 46.65 percent of the vote after 70 percent of ballots were counted, the electoral commission said Monday.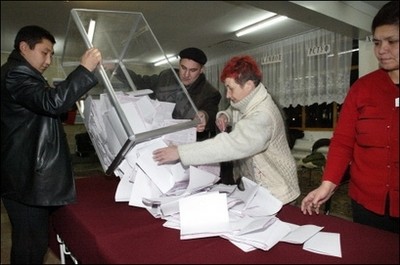 Officials begin vote counting in Bishkek.(Photo: AFP)
The opposition Socialist party Ata-Meken was running in a distant second with 9.7 percent of votes in Sunday's election, followed by the moderate opposition Social-Democratic party with 4.7 percent, the commission said, adding that no other party appeared to have received more than three percent.

Commission officials told AFP that it was still too early to tell how the 90 seats in the parliament would be distributed.

"It is too early to tell how many mandates the opposition will have, or even if they will have any at all," said Nina Musina, a commission official.

In order to enter parliament, a party must net at least 13,500 votes in each of the country's nine regions, which in some cases means over 10 percent of voters, and five percent nationwide.

Some 71.3 percent of the country's 2.7 million eligible voters cast their ballots, well above the 50 percent needed for the election to be considered valid, the commission reported.

This impoverished country on China's western edge is still in turmoil after the 2005 uprising which saw its first post-Soviet leader, Askar Akayev, ousted by angry mobs who took over the presidential palace.

Months of street protests followed and three members of parliament were assassinated. Bakiyev and the outgoing parliament have been frequently locked in bitter disputes.