France's Christine Lagarde, the frontrunner to lead the IMF, told AFP Thursday that she felt "very positive" about her talks in Beijing and backed China's right to fill a top job at the global lender.
The French finance minister, seeking to be the International Monetary Fund's first female managing-director, undertook a marathon day of talks on Wednesday in Beijing, after spending the day before in New Delhi with Indian leaders.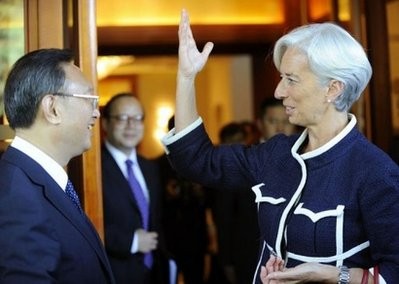 French finance minister Christine Lagarde (R) talks to Chinese Foreign Minister Yang Jiechi after their meeting at the Diaoyutai State Guesthouse in Beijing on June 8, 2011.
China, India and other emerging nations have baulked at Europe's traditional lock on the leadership of the Washington-based IMF, calling the arrangement outdated, and so far have been non-committal in public about her bid.
"I am very satisfied with the meetings I've had in China," Lagarde said in an interview on the final day of her trip to the Chinese capital.
"I have a very positive feeling following these talks, but it's up to them to convey their decision. It's not up to me," she said.
Lagarde, a 55-year-old former international lawyer, met Foreign Minister Yang Jiechi, central bank governor Zhou Xiaochuan, Finance Minister Xie Xuren and Vice Premier Wang Qishan -- China's top official on financial affairs.
On Wednesday, Yang told reporters the race to lead the IMF was "open", echoing the lukewarm response offered by Indian Finance Minister Pranab Mukherjee after his own talks with Lagarde in New Delhi.
"We had a good discussion. She explained to me the purpose of her candidacy. I listened very carefully," Yang told reporters after his meeting with Lagarde at a government compound in Beijing where foreign dignitaries are often hosted.
"It's an open field now. There are quite a few people campaigning," he said in English.
"China of course gives serious thought to this very important issue."
Lagarde is seen as the favourite to replace Dominique Strauss-Kahn, who resigned last month after his arrest on sexual assault charges. He pleaded not guilty in a New York court on Monday to the attempted rape of a hotel maid.
Two weeks ago, France's chief government spokesman Francois Baroin said China -- the world's second-largest economy -- was "favourable to the candidacy of Christine Lagarde", but did not offer any evidence to back up his statement.
China's foreign ministry subsequently said the choice of a new IMF chief should be based on "openness, transparency and merit", and better represent emerging markets and changes to the world economy.
Lagarde -- who has already visited Brazil, another major emerging economy -- has pledged to reform the IMF to give developing countries more power.
"The IMF does not belong to anybody. It belongs to the 187 members of the Fund, and the management of the Fund does not belong to any particular nation or region," she told reporters.
"We can't effectively represent the world's economic balance of power if certain economies are under-represented," she said.
She also told AFP it would be "very legitimate for Chinese representatives to be included at the highest level of the Fund's leadership" after Beijing expressed a wish for "better representation".
She specifically mentioned China's Zhu Min, a special advisor to the IMF chief, praising his "abilities" and saying it would be "fully appropriate if he played an important role in the management of the Fund".
But she added: "You cannot be punished because of your nationality."
Lagarde also praised Beijing's efforts to allow its currency, the yuan, to appreciate as a "positive movement" and said she hoped it would continue.
On what it would mean to be the first female IMF chief, Lagarde said it would be a "symbol of diversity", adding she hoped it would "give other women the confidence and courage to achieve what they want to achieve".
The French candidate heads on Friday to Lisbon, where African finance ministers and central bankers will be meeting for the African Development Bank's annual gathering. She then will travel to Saudi Arabia and Egypt.
The only other serious IMF contender, Mexico's central bank chief Agustin Carstens, visited Canada on Tuesday and was to head to India on Friday on a tour that has already seen him stop off in Brazil and Argentina.
The deadline for IMF nominations is on Friday, leaving little time for anyone else to emerge.