Laos confirmed its second human death from bird flu on Friday, a woman who died earlier this month, after results from a lab used by the World Health Organisation (WHO).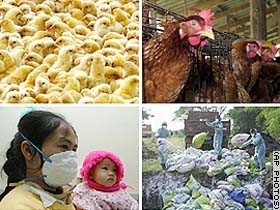 Virus H5N1 now has killed 169 people worldwide
Unlike neighbouring countries China, Viet Nam, Thailand and Cambodia, the country had been spared any human deaths from the virus, which has killed nearly 170 people, until this year.
But the unidentified 42-year-old woman who died from the virus on March 4 near the capital Vientiane is the second death from the virus here this year -- both of them this month. A 15-year-old girl died on March 8.
The woman, from Saka village, had previously tested positive for the H5 strain at the National Laboratory and Epidemiology Centre and had been treated as a probable H5N1 infection.
Laos and the WHO said that a duck in her household had tested positive for H5, and that on Thursday "culling activities were completed" in the village.
Ducks can carry and spread the killer virus without showing symptoms.
"Hospital staff that treated the patient and close family contacts are being monitored daily," the health ministry said in a statement. "None have shown signs of infection."
Laos, a landlocked and poor country, has reported H5N1 cases in birds in 2004, last July and early this year and moved to contain each outbreak by slaughtering tens of thousands of birds and disinfecting the areas.
But Laos is seen as a lower risk for human cases, in part because it has fewer than six million people spread out across mountainous terrain, and only an estimated 20 million head of poultry on mostly small, scattered farms.
WHO and the Lao communist government on Thursday stressed the importance of strengthening human and poultry surveillance and rapid reporting.
"We ask the Lao people to join together to halt the spread of the disease," said Health Minister Ponmek Dalaloy. "Doing so will help protect our children, our neighbours and our country's economy."
He stressed that people should wash their hands with soap after handling eggs or poultry, eat only well-cooked chicken, duck and eggs, avoid contact with sick or dead birds, and quickly report all suspicious cases.
WHO says the virus has now killed 169 people worldwide.
The WHO said on Friday that "the virus has not mutated to a form that is easily transmissible among humans" and that the latest death "does not indicate a significantly changed risk for pandemic influenza at this time