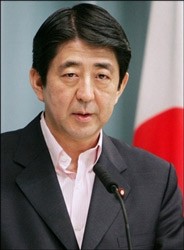 Mr. Shinzo Abe, the front-runner to be Japan's next prime minister (AFP Photo)
Shinzo Abe, the front-runner to be Japan's next prime minister, currently the chief cabinet secretary, is looking at creating an intelligence body directly under the prime minister, the conservative Sankei Shimbun newspaper reported without giving its sources.
The new agency would be a response to concerns that Japanese police and other bodies have focused intelligence gathering on domestic matters, and lack the resources and authority for international activities, the report said.
The spy agency, if created, would work with such bodies as the CIA and MI6 of Britain to collect and analyze information related to international terrorism, politics and military affairs, the Sankei said.
Mr. Abe, the government's top spokesman, is seen as the top candidate to replace Prime Minister Junichiro Koizumi, who will step down next month. Mr. Abe's aides declined to offer immediate comment on the report.
He gained popularity by taking a hardline stance against Democratic People's Republic of Korea, which in 2002 admitted to the kidnapping of Japanese nationals in the 1970s and 1980s to train its spies.
Mr. Abe has publicly said he would like to launch a body similar to the US National Security Council, if he becomes prime minister.
Meanwhile major media reported Thursday that the Japan Defense Agency will ask for an increase in its budget for the year to March 2008, particularly for missile defense-related needs given the threat from North Korea.
In all, the agency will request a budget worth 4.86 trillion yen (41.7 billion dollars) for the next fiscal year starting April, up 1.5 percent from the current year, the Nihon Keizai Shimbun said.
The agency will ask for a record high 219 billion yen for the missile defense related budget as it prioritizes an early build-up of a ballistic missile shield, Kyodo News said, citing unnamed sources at the agency.
Following North Korea's missile launches last month, Washington has offered to provide Japan with up to 80 more Patriot missiles capable of intercepting ballistic missiles, Kyodo added. Agency officials declined to comment.
Source: AFP