VALLETTA (AFP) – The UN refugee agency said a "humanitarian emergency" was underway as thousands fled Libya over the weekend in a mass exodus of foreigners from the strife-torn country by air, land and sea.
The agency said almost 100,000 migrant workers, mostly from Egypt and Tunisia, had fled Libya in the past week and many remained stranded at the Libya-Tunisia border as Libyan customs officers deserted their posts on Sunday.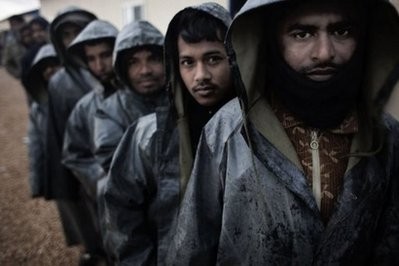 AFP - Stranded foreign workers queue for breakfast under pouring rain in the port of Benghazi.
"We call upon the international community to respond quickly and generously to enable these governments to cope with this humanitarian emergency," said Antonio Guterres, the United Nations High Commissioner for Refugees (UNHCR).
Meanwhile two ferries docked late Sunday with some 300 people, including the ambassadors to Libya from Malta and Portugal, on the Mediterranean island of Malta. As the closest European Union member state located just 350 kilometres (220 miles) north of Libya, it has become a key hub in the desperate scramble to get foreigners out of Libya.
Malta's Prime Minister Lawrence Gonzi said his island nation had received some 8,000 people since the Libyan crisis began and he feared there could be an even greater exodus.
"There could be an escalation," Gonzi said at a press conference late Sunday. "We have brought back from Libya more than 8,000 people representing 89 nationalities."
"If the situation continues to escalate, we'll need help from Europe and share the burden with our European partners," he said, adding that in his view the end was in sight.
Earlier a ferry arrived in Malta loaded with some 1,800 Asian workers -- chartered by Brazilian energy infrastructure company Odebrecht -- included citizens of China, Pakistan, the Philippines, Thailand and Vietnam who will be flown back to their homelands from Malta.
Libya, one of Africa's biggest oil producers, had a huge multinational workforce before the current crisis including construction workers, oil industry workers and domestic helpers from Bangladesh, China, Egypt and the Philippines.
China said Monday it had evacuated nearly 29,000 of its nationals from Libya. The foreign ministry said around 2,500 Chinese citizens had already returned home and 23,000 more had been sent to Greece, Malta, Tunisia, Sudan and the United Arab Emirates, where they were waiting to board flights home.
Another 3,400 had left Libya and were making their way to some of these countries aboard ships, it added.
Some 4,600 people fleeing the violence in Libya, mostly Chinese nationals, arrived in the Greek ports of Piraeus and Heraklion on Sunday. Three Greek ferries have evacuated more than 7,000 foreign nationals from Libya.
Several hundred Vietnamese and Filipinos also made their escape by land to neighbouring Algeria, abandoning their construction jobs, along with 109 Libyans and three Belarussians, the Algerian news agency APS reported.
An Italian warship, the San Giorgio, meanwhile landed in Sicily loaded with 258 evacuees from around 20 countries including 121 Italians who were rescued from the Libyan port of Misurata in stormy weather conditions.
A ship chartered by Russian businesses operating in Libya, the Sveti Stefan II, arrived at the port of Ras Lanouf in central Libya to evacuate 1,126 people, as a Russian emergency situations ministry plane flew to Tripoli.
On Sunday three British military aircraft rescued a further 150 foreign nationals stranded at camps of remote oil installations in the Libyan desert, following a similar mission on Saturday.
One of the Royal Air Force C130 Hercules transport planes involved in Sunday's mission sustained damage "consistent with small arms fire," the Defence Ministry said.
"There were no injuries to passengers or crew and the aircraft returned safely to Malta," a ministry spokesman added.
A British warship, the HMS Cumberland, which set off again for Libya after bringing hundreds of evacuees to Malta, had picked up more people in Benghazi and was heading back to Malta, Defence Secretary Liam Fox said.
The first wave of those rescued on Saturday arrived at London's Gatwick airport from Malta on Sunday and expressed their gratitude to the British forces.
"They were magic people, perhaps the best in the world," Mike O'Donoghue, a 62-year-old oil worker, told the BBC. "We owe our lives to them perhaps.... When we got on the plane there were two locals attacking the tyres with machetes and the special forces told them to stop.
"Fortunately someone tackled them and brought these guys down but they were in a very difficult situation," he added.
Turkey's foreign ministry meanwhile said Sunday it had sent a military cargo plane to Libya to repatriate 125 nationals who were rescued after being held hostage in Tripoli.
The United Nations said more than 1,000 people had been killed in Libya as supporters of strongman Moamer Kadhafi crack down on protests.
Germany's weekly Bild am Sonntag said two Transall C-160 planes landed on an air strip in Nafurah in the desert and evacuated 133 people. But the German foreign ministry said dozens of Germans remained stranded in the desert.