AJDABIYA, Libya, March 26, 2011 (AFP) - Libyan rebels backed by a barrage of Western strikes seized control on Saturday of the strategic eastern oil town of Ajdabiya from Colonel Moamer Kadhafi's forces, an AFP correspondent reported.
Defensive positions previously held by pro-Kadhafi forces -- targetted by coalition warplanes -- stood deserted on Saturday morning as rebels rolled into the town tooting car horns and flashing the "V" for victory sign.
"God is greater," cheered some of the rebels, while others shot rounds of celebratory gunfire into the air.
Onlookers swarmed around the bodies of two dead pro-Kadhafi fighters.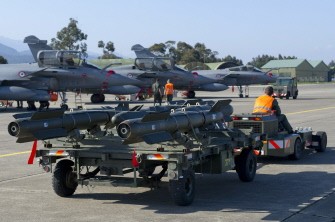 This handout picture released on March 25, 2011 by ECPAD (The French Defence Communication and Audiovisual Production Agency) shows lined-up Rafale jet fighters at Solenzara airbase in Corsica to take part in military operations in Libya. AFP
The roads were clear of any armoured forces fighting for Kadhafi, but there were destroyed tanks and other military vehicles, a damaged mosque and at least one house was reduced to rubble.
On Friday, coalition warplanes pounded Kadhafi's forces entrenched in Ajdabiya, boosting rebel efforts to launch new offensives to recapture the city.
Ajdabiya is the first town to fall back into rebel hands since a coalition of Western forces launched UN-backed air strikes a week ago to stop forces loyal to Kadhafi attacking civilians.