Libyan leader and former pariah Moamer Kadhafi began his first visit to Russia since 1985 Friday, a trip that could revive military cooperation between Tripoli and Cold War ally Moscow.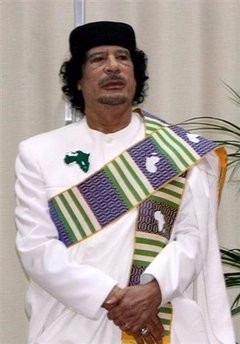 Libyan leader and former pariah Moamer Kadhafi, seen in September 2008. Kadhafi began his first visit to Russia since 1985 Friday, a trip that could revive military cooperation between Tripoli and Cold War ally Moscow.(AFP/File/Mahmud Turkia)
Kadhafi's plane landed at Moscow's Sheremetyevo airport shortly after 1200 GMT, an airport official said, kicking off a three-day visit where arms purchases and nuclear energy are on the agenda.
Libya might also offer to host a Russian naval base on its Mediterranean coastline, a move likely to alarm the West, a Russian newspaper reported.
Kadhafi was to have dinner with President Dmitry Medvedev at the Russian leader's residence outside Moscow at 1600 GMT, the Kremlin said. He was to meet Prime Minister Vladimir Putin on Saturday, according to Putin's office.
One topic of this weekend's talks would be "military-technical cooperation," a Kremlin official said ahead of Kadhafi's visit, using a term that typically describes arms purchases.
Tripoli bought many of its arms from Moscow during the Cold War, which was still raging when Kadhafi last visited 23 years ago.
Talks could also touch on "the peaceful atom," the Kremlin official said on condition of anonymity, following previous reports that Russia was in talks about building a nuclear power plant in Libya.
The Kommersant daily reported Friday that Kadhafi might also offer to host a Russian naval base in the Libyan port of Benghazi, citing a source close to the preparations for his visit.
"The Russian military presence will be a guarantee of non-aggression against Libya from the United States," the newspaper said.
For Russia, a Mediterranean base would cement its military resurgence after it dispatched a flotilla of warships in a show of might last month. The ships stopped in Tripoli this month and are due to continue to Venezuela.
Libya could agree to buy over two billion dollars (1.5 billion euros) of Russian arms this weekend, Interfax news agency reported Friday, citing a source in the Russian defence industry.
It was interested in S-300 and Tor-M1 surface-to-air missile systems, Su-30 and Mig-29 fighter jets and T-90 battle tanks, the source said.
Kadhafi has also asked Russian officials where in Moscow he can set up his traditional Bedouin tent, where he receives guests during state visits, a Kremlin official told AFP.
"It is an important detail for the Libyan leader," the official said.
According to Libyan sources in Moscow, Kadhafi would visit Ukraine and Belarus after his visit to Russia.
Relations have warmed significantly this year between Russia and Libya, which began to shed its pariah status in 2003 when it renounced weapons of mass destruction and admitted guilt in the 1988 bombing of a Pan Am airliner.
On Thursday, the Russian foreign ministry said the countries shared a "common position" on the importance of a "multipolar world," a term used by Moscow to describe its opposition to US global dominance.
In April, during a visit to Tripoli by Putin, who was then Russia's president, Moscow agreed to cancel billions of dollars of Libyan Soviet-era debt in exchange for big contracts with Russian companies.
The deals included a cooperation agreement between Russian gas giant Gazprom and Libya's national energy company, as well as a 2.2-billion-euro contract for Russia's rail monopoly to build a railway line in Libya.
But Kadhafi has dragged his feet on implementing the deals and he angered Moscow by refusing to bring his energy-rich country into a "gas OPEC" with Russia and Qatar, Kommersant said Friday.