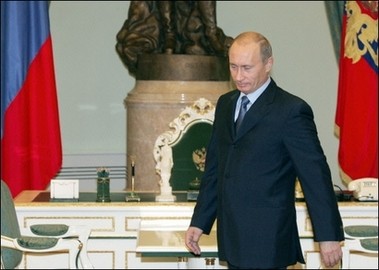 President Vladimir Putin faces Russians in a live multimedia broadcast to field queries on topics from nuclear families to nuclear weapons
President Vladimir Putin faces Russians in a live multimedia broadcast to field queries on topics from nuclear families to nuclear weapons.
As he has on four previous occasions since 2001, Putin will respond to questions selected by moderators or posed directly by Russians in satellite television linkups from a number of Russian cities and towns.
The session was to be broadcast live on three national television networks and two major radio stations while questions may also be submitted by mobile phone text message, email or land line phone call.
A sampling of questions so far received, posted on the website, suggested that Putin would be asked to respond to issues ranging from relatively banal domestic concerns to some of the most pressing current international problems.
"Will support be increased for children of young parents with limited means?" was among the questions on "social protection" issues posted on the website.
It was preceded by: "What do you think of North Korea's nuclear test?"
If similar appearances in past years are any indication, Putin can be expected Wednesday to face a cascade of tailor-made or even fawning questions, though he was also likely to be grilled on a hot-button topic here and there.
"If there is a war between Georgia and Abkhazia, what will Russia's position be and what action will Moscow take?" one pre-selected question asked, referring to a contentious "frozen conflict" in the former Soviet Union.
Tensions between Russia and Georgia remain high amid a Russian economic blockade on its small southern neighbor, imposed after four Russian officers were arrested last month by Tbilisi and accused of spying.
The Kremlin said only "the most interesting and currently relevant" questions would be submitted to Putin, but provided no explanation of how those would be determined and who would decide what was "most interesting".
Some political analysts dismissed the whole exercise as theater.
Putin, whose administration got some Western PR coaching this year as it managed the Group of Eight presidency for the first time, has said in the past that he favors the direct, televised question-answer sessions.
"It enables you to feel the problems that worry the people. It is a good guideline for practical work," he said on September 27 last year, after he spent more than three hours answering questions.
On the eve of Wednesday's question and answer session Putin reached out to Russians beyond the country's borders, particularly in other ex-Soviet republics, a group that Moscow hopes can be persuaded to resettle in Russia and help reverse the sharp population decline.
"The stronger and more successful Russia becomes the closer our contacts with our compatriots," he told a Congress of Compatriots in Saint Petersburg.
"We expect the countries of the former Soviet Union to strengthen their national languages... But at the same time we expect that these countries will support development of the Russian language as our common inheritance and a natural base for cooperation and developing relations," Putin was quoted by Izvestia newspaper as saying.