LONDON, Aug 17, 2011 (AFP) - Police in London said Wednesday they have charged more than 1,000 people over rioting in the British capital last week, but warned of more to come as officers trawl through 20,000 hours of CCTV footage.
A total of 1,005 people have been charged with various offences out of the 1,733 arrested in London so far, although nationwide some 1,179 people had been brought before the courts by Monday afternoon.
"This is a significant milestone but the investigation is far from over," said Tim Godwin, the acting commissioner of the Metropolitan Police.
About 500 officers from Scotland Yard are working on the riots, he said, adding: "Our tireless investigations to find those responsible for last week's appalling violence continue.
"Officers across the Met are carrying out great police work, day and night, to gather the kind of evidence which has led to these charges."
The majority of those arrested were detained in the days after the riots, which began following the police shooting of a local man in Tottenham, north London, and spread across several English cities over four nights.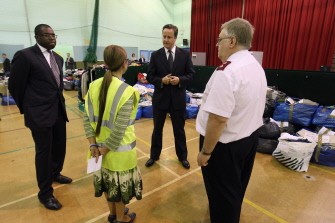 AFP - British Prime Minister David Cameron (C) visits the Community Assistance Centre in Tottenham Green Leisure Centre with local MP David Lammy (L) on August 16, 2011 in London. Cameron visited the assistance centre which is providing donated food and clothes as well as council services to residents and businesses affected by the recent riots.
Many suspects were identified by members of the public, including their own families, after police published CCTV footage of shops being ransacked in London, Manchester, Birmingham and other towns.
About 125 police spent the weekend examining CCTV footage, Scotland Yard said, while images of suspects posted on photo-sharing website Flickr have been viewed 7.8 million times.
Mayor of London Boris Johnson said the high number of arrests was down to the hard work of police and "the outstanding support they have had from law abiding Londoners who will not tolerate this behaviour in their communities".
By Monday afternoon, 115 people had been convicted over the riots across England and Wales, of whom at least 26 were under the age of 18, according to figures from the Ministry of Justice.