A magnitude 5.3 earthquake rattled central Chile on Wednesday, shaking buildings in the capital Santiago, but there were no reports of any damage or injuries, the government said.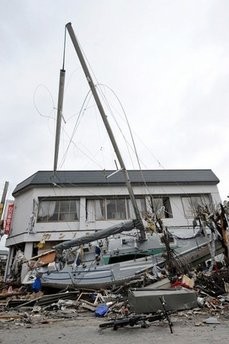 A washed up boat lays in front a house in the devastated city of Ofunato following the devasting earthquake and ensuing tsunami on March 11
The U.S. Geological Survey said the quake struck 45 miles north-northeast of the central Chilean port city of Valparaiso, at a depth of 15.3 miles.
Reuters witnesses said buildings swayed in Santiago, 75 miles miles to the east.
"There are no reports of any damage or injuries," a spokeswoman for state emergency office Onemi told Reuters.
Quake-prone Chile's economy is still recovering from a massive 8.8 magnitude earthquake a year ago, which hammered towns, infrastructure and industries in south-central Chile and killed more than 500 people.