Malawi's President Bingu wa Mutharika is fighting an uphill battle to win a majority in national polls dominated by fears of hunger, against an opposition united in an unlikely alliance.
The 75-year-old economist is banking on the popularity of his 183-million-dollar seed and fertiliser scheme, which has helped Malawi grow enough food to feed itself for the last three years, following a crippling famine in 2005.
He is running against 77-year-old John Tembo, the main opposition leader and once the right-hand man to the late dictator Kamuzu Banda, who ruled this southern African country with an iron fist for three decades.
Tembo has struggled to shake his links to the atrocities of Banda's regime, but his campaign enjoyed a surprise boost from an alliance with the popular former president Bakili Muluzi.
Muluzi, who unseated Banda 15 years ago in Malawi's first multi-party polls, had repeatedly tried to return to power himself but was smacked down by the courts last weekend, with a ruling that he could not avoid a constitutional two-term limit.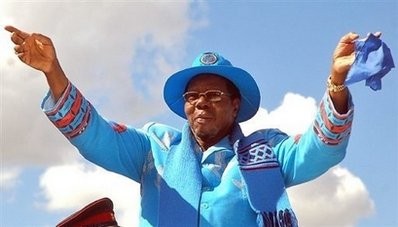 Malawi's President Bingu wa Mutharika waves to supporters at a rally in Lilongwe
Muluzi had handpicked Mutharika as his successor when he stepped down five years ago, only to see his protege turn against him and form his own Democratic Progressive party, which is contesting national polls for the first time.
Angered by the betrayal and frustrated at his inability to run himself, Muluzi decided to back Tembo, creating an electoral alliance with the two main opposition parties.
Mutharika's party holds fewer than one third of the 193 seats in parliament, leaving him unable to pass major legislation and forcing him to fend off impeachment attempts.
The nearly 3,900 polling stations opened at 6:00 am (0400 GMT) Tuesday and close 12 hours later.
Counting of the votes will start immediately, but final results are not expected until Thursday, election commission spokesman Fegus Lipenga told AFP.
Analysts say Mutharika is unlikely to walk away with a majority, even though Malawi has emerged as one of Africa's fastest-growing economies under his stewardship.
For decades Malawi's economy grew by an average of two percent, but the figure has jumped to seven percent over the last three years, according to the International Monetary Fund, due to growth in telecoms, tobacco sales and bumper maize harvests.
"Our number one enemy is poverty, and we want to make Malawi hunger-free and prosperous," Mutharika said on the campaign trail, vowing sweeping reforms to bring economic stability.
He has also launched an anti-corruption drive that has caught Muluzi up in dozens of charges accusing the former president of embezzling 12 million dollars in donor funds.
Poverty and hunger are the overriding issues for most of Malawi's 13 million people.
Half the population lives on less than a dollar a day, leaving them at constant risk of hunger simply if the rains turn bad.
One in 10 adults has HIV, and AIDS has orphaned more than half a million children, driving life expectancy down to 43.
Even with subsidised fertiliser, poor villagers struggle to survive.
"I harvested six bags of maize after receiving one bag of subsidised fertiliser, but this will not take me to the next harvest," said Madalitso Chimpoza, who is raising five children with his wife in a village outside the administrative capital Lilongwe.
"I need a job, any job, in order to survive. It's tough raising children."