SINGAPORE (AFP) – German Chancellor Angela Merkel said Thursday the euro was a "stable currency" but some countries in the eurozone need to improve their competitiveness and fiscal responsibility.
The leader of Europe's largest economy also gave fulsome backing to Christine Lagarde in her bid for leadership of the IMF, saying the French Finance Minister was "ideal" for the job.
Merkel told her audience the single European currency was not the root of Europe's current travails.
"Let me tell you very clearly: we don't have a problem with the euro as such," Merkel said at a forum in Singapore.
"It is a stable currency, particularly if you look at it vis-a-vis the dollar."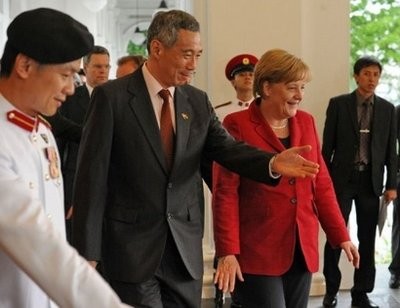 AFP - Singapore Prime Minister Lee Hsien Loong (C) welcomes German Chancellor Angela Merkel (R).
But in an apparent reference to Greece and other eurozone members with debt problems, Merkel said the eurozone region had "a competition problem, a competitiveness problem."
"So this is why we have said right from the start we need to boost competitiveness and we need to put fiscal responsibility and fiscal soundness at the very heart of our efforts," Merkel said.
Merkel's comments came amid growing expectations that the European Union will provide new aid to Greece as the eurozone struggles to fix its finances despite a 110-billion-euro bailout agreed with Athens and the International Monetary Fund (IMF).
Support from Germany, the eurozone's economic powerhouse, is vital in any further bailouts for its fiscally-strapped neighbour.
Improving economic competitiveness is key to overcoming the challenge, Merkel said in Singapore in reference to the eurozone's weaker members.
"Because the competitiveness of the member states in the euro area is too disparate, some of them are too weak as regards their competitive situation and the question is obviously how can we overcome this crisis," Merkel said.
On the IMF leadership succession, Merkel said French Finance Minister Christine Lagarde was well qualified to head the body and urged emerging countries to give her an "objective" assessment amid calls for a non-European to lead the body for the first time.
The IMF managing director's post was vacated last month by French financier and politician Dominique Strauss-Kahn after he was arrested and charged with sexual assault in New York. He denies the charges.
"If I look at the persona, Christine Lagarde as a finance minister enjoys an excellent reputation worldwide," Merkel told the Singapore forum, adding that "in many ways she is an ideal embodiment of economic experience and political experience."
"I hope that emerging countries and other countries will take a close look and, if you like, an objective and unbiased look at her even though obviously they too have to have a chance," the German leader said.