Mexico was optimistic Sunday that the swine flu epidemic was coming under control as it tried to mitigate the economic fallout, joining Canada and the United States in hitting out at pork boycotts.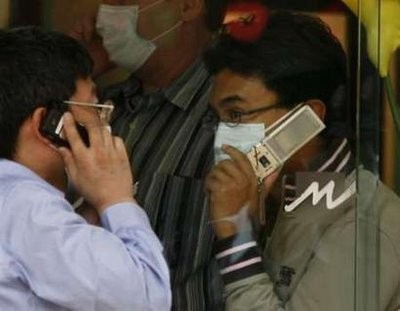 A man (L) talks on a mobile phone through a window with a hotel guest (R) inside a hotel in Hong Kong May 3, 2009. (AFP Photo)
Authorities in Mexico, at the epicentre of the H1N1 flu outbreak, said the national death toll had reached 19, as health officials around the world remained on high alert with more cases confirmed.
But Health Minister Jose Angel Cordova said "each day we're seeing fewer serious cases."
He said: "The mortality rate is dropping," adding that there were "enough elements to say that we are in a stabilisation phase."
Just days earlier, the Mexican government had spoken of 159 "probable" deaths from the new variant of swine flu, which was shown to be spread by human-to-human contact.
But stringent tests by US and Canadian labs on the mountain of "probable" cases excluded most of them, and left the much smaller confirmed toll.
The World Health Organisation (WHO) said 16 countries have officially reported 658 cases of influenza A (H1N1) infection.
In Geneva, a WHO official indicated the virus had not spread in a sustained way outside of the Americas, a condition necessary to declare a full global pandemic.
"We see no evidence of sustained community spread outside North America," said Mike Ryan, WHO Director of Global Alert and Response.
In the United States, the Centers for Disease Control and Prevention (CDC) reported 160 confirmed cases across 21 states and said additional cases and perhaps even deaths could follow.
Authorities in New York said the city may have seen more than 1,000 cases, but carriers were likely recovering or recovered.
In Canada, some 30 new cases were reported on Saturday, bringing the total number of people infected throughout the country to more than 85.
Officials also confirmed H1N1 cases had been detected in a pig herd in Alberta, likely contracted from a man who recently returned from Mexico.
The three North American nations tried to mitigate the economic impact of the crisis, hitting out at countries which had slapped bans on their pork products.
"We strongly urge the international community not to use the outbreak of the H1N1 influenza as a reason to create unnecessary trade restrictions and that decisions be made based on sound scientific evidence," the countries said in a joint statement.
Nearly 20 nations, including China and Russia, have imposed bans on the importation of pigs and pork products from Canada, the United States and Mexico.
Mexico also hit out at China, which it said had slapped "unjustified" health measures on Mexicans arriving in the country.
Around 40 Mexican nationals were in isolation in different parts of China Sunday even though they showed no symptoms of swine flu, the Mexican embassy in Beijing said.
South Korea reported a new probable case of swine flu Sunday, one day after confirming its first case of the virus in a 51-year-old nun who had returned from Mexico.
Some 300 guests and staff remained under a seven-day quarantine in a Hong Kong hotel after a Mexican man brought the first case of swine flu into the city, which fears a repeat of the SARS and bird flu outbreaks of recent years.
"We have had one Korean who was screaming and shouting and an English couple who were very upset," one guest locked inside the Metropark hotel told AFP by phone.
The case sparked a regional alert, with China immediately ordering health authorities to track down and isolate the man's fellow passengers, while some pharmacies in Hong Kong sold out of face masks.
India also reported suspected cases but Japanese authorities said a four-month-old baby from the United States had tested negative.
Alarm was evident in Egypt, which began slaughtering its 250,000 pigs despite the WHO insisting there was no evidence that the animals were transmitting the virus to humans.
Benin became the second African country to report a suspected case. British officials confirmed two new cases, Israel reported a third and confirmed cases in Spain rose to 20.
Meanwhile more than 400 schools around the United States have shut their doors, dismissing nearly a quarter of a million students.
Officials in Forth Worth, Texas, closed all 144 schools in their district and cancelled extra-curricular activities after a case of the H1N1 virus was confirmed.
But health authorities said the world appeared better prepared to fight an epidemic than a few years ago, and promised that a vaccine was only months away.
Most cases outside Mexico have involved only mild symptoms, treatable with existing flu medicines.
Some experts have suggested the virus may have weakened as it was carried outside the country.