TOKYO, Feb 23, 2011 (AFP) - Surging oil prices caused by the political turmoil in the Middle East will create "very, very big challenges" for airlines, an industry body warned Wednesday.
"Oil is a big problem because it could change completely the picture" for the sector said Giovanni Bisignani, head of the International Air Transport Association, an organisation that represents some 230 airlines comprising 93 percent of scheduled international air traffic.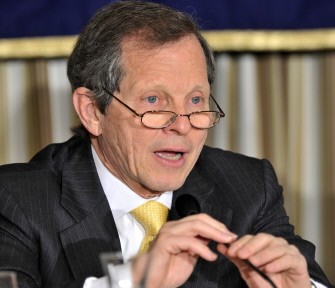 Giovanni Bisignani spaeks before the press in Tokyo on February 23, 2011. AFP
The political unrest that has swept the key oil-producing Middle East and North African region, including Libya, Bahrain, Yemen and Iran, has stoked fears of a disruption to global crude supplies and led to price spikes.
New York's main contract, light sweet crude for April delivery, rose 11 cents to $95.53 per barrel in Wednesday afternoon trade and Brent North Sea crude for April was up 69 cents at $106.47.
Bisignani said in Tokyo that high energy prices could turn what had been "forecast to be a profitable year into a very complicated year" and spell "very very big challenges" for airlines.
IATA recently predicted passenger traffic would grow for the second consecutive year after its crisis-driven drop in 2008, but it said net profits for airlines as a whole would fall 40 percent to $9.1 billion in 2011.
The forecast was based on an oil price of $84 per barrel for Brent crude.
A price of $104 dollars per barrel would mean extra costs of $32 billion dollars for the industry, Bisignani said.
"Part of this will be covered by fuel surcharges, but that is a commercial decision. But it's a big, big burden for an airline."
Looking ahead, he said "I would need a chief magician" instead of a chief economist.
"Let's hope the situation gets clarified. The impact is now not just on fuel prices but also on the market," he said, noting that the Middle East is a big passenger market and destination.
The regional political upheaval that started in Tunisia before spreading to Egypt is now gripping Libya, with reports of hundreds of deaths.
Long-serving leader Moamer Kadhafi on Tuesday ordered his supporters to crush an uprising and warned he would fight to the death to remain in charge of the country he has ruled since 1969.
"This is my country, my country," he raged on national television. "I will fight to the last drop of my blood."
The violence across the country -- inspired by the toppling of the leaders of Tunisia and Egypt -- has seen scores of people killed at the hands of Kadhafi's troops, sparking international outrage.
Libya, which has Africa's largest oil reserves and is the continent's fourth largest producer, is a member of the Organisation of the Petroleum Exporting Countries (OPEC), which ships about 40 percent of the world's crude.
Uprisings have also broken out in Morocco, Yemen, Bahrain and Iran.
However, further crude oil price rises could be capped after Saudi Oil Minister Ali al-Naimi said the OPEC oil cartel would step in to meet any supply shortage caused by the turmoil.