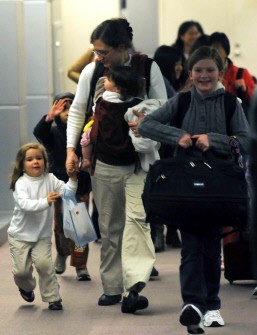 AFP - US passengers arrive at Taiwan's Taoyuan International Airport early on March 18, 2011. The first flight chartered by the United States took off from quake-hit Japan for Taiwan that day.
TAIPEI, March 20, 2011 (AFP) - A 5.5-magnitude earthquake struck off Taiwan Sunday shaking buildings in the capital, seismologists said, but there were no reports of damage and a tsunami warning was not issued.
The undersea quake hit at 16:00 local time (0800 GMT) about 44 kilometres (26 miles) southeast of Taitung city in the southeast, at a relatively shallow depth of 17 kms, the US Geological Survey said.
Taiwan's Seismology Centre measured the quake at 5.9-magnitude.
Buildings in the Taipei swayed and the quake was felt across the island but Taiwan's National Fire Agency said there were no casualties or damage.
Taiwan is regularly hit by earthquakes as the island lies near the junction of two tectonic plates.
In September 1999, a 7.6-magnitude tremor killed around 2,400 people in the deadliest natural disaster in the island's recent history.