Bolivian President Evo Morales easily survived a recall referendum, according to exit polls -- but so did a coalition of political enemies he had sought to weaken with the vote.
The result Sunday was likely to deepen a political crisis gripping South America's poorest nation by emboldening both sides in their struggle, analysts said.
Morales told a flag-waving crowd from the balcony of the government palace in La Paz after the referendum that "your vote conslidated the process of change" towards a socialist state that he had started.
"We are here to continue recovering natural resources and the consolidation of nationalization," he said.
Exit polls by the ATB commercial television station and the firm Captura Consulting suggested Morales won at least 63 percent support in Sunday's referendum -- more than the 54 percent he scored in the December 2005 presidential election.
The president congratulated opposition governors who were also amply confirmed in their posts, and called on them "to work together" with him.
That appeal was immediately rejected by the governors in the eastern lowlands -- a relatively wealthy region dominated by an elite of European descent that wants autonomy to put its gas fields and lush farmland out of Morales's control.
Deep divisions along political, ethnic and regional lines looked set to worsen, undermining Morales's assertion as he voted Sunday that "my big dream is to have unity among the Bolivian people."
Morales, who took power as Bolivia's first indigenous president in 2006, was seen likely to use his victory to organize a new plebiscite on a proposed constitution that would give more land and revenues to the indigenous majority.
But the governors of the eastern states of Santa Cruz, Tarija, Pando and Beni were celebrating local support in their regions rivalling that of Morales's.
One, Ruben Costas of Santa Cruz, who scored 79 percent, struck out in his speech against the president's "dictatorship" and vowed Morales would not be able to step foot in his state.
Of the other four state governors whose jobs were also on the line in the plebiscite, three were seen to have been ousted in the referendum -- two of them Morales critics, and one of them a Morales ally. One other Morales ally was reconfirmed to office.
One of the losing opposition governors, Manfred Reyes of the central state of Cochabamba, vowed to fight any attempt to make him exit after the polls suggested 57 percent of the ballots went against him.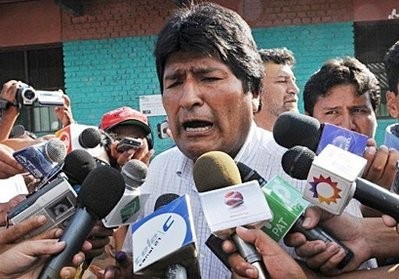 Bolivian President Evo Morales answers journalists' questions after voting at a polling station
"I remain governor of Cochabamba," he told reporters.
That defiance raised fears of violence in Cochabamba, which was rocked by clashes between pro-Reyes supporters and Morales loyalists early last year.
A US analyst living in Cochabamba, Jim Shultz of the Democracy Center, said the surviving opposition governors would have to take into account Morales's support even as they flexed their own strengthened mandates.
"They will either talk more in the language of de facto secession or start to negotiate," he said.
A French analyst living in La Paz, Herve Do Alto, agreed that the result did nothing to break the "stalemate" in Bolivia, but said it was up to Morales to make some concessions.
"Even if the government is strengthened, it has to negotiate, there is no other option," he told AFP.
The referendum was closely watched by other Latin American nations, notably Argentina and Brazil, which rely on Bolivian gas supplies, and Venezuela, whose President Hugo Chavez is Morales's closest ally.