Big U.S. airlines and their affiliates canceled more than 2,000 flights on Friday as a late-winter storm hit the Northeast's biggest cities, airline and government officials said.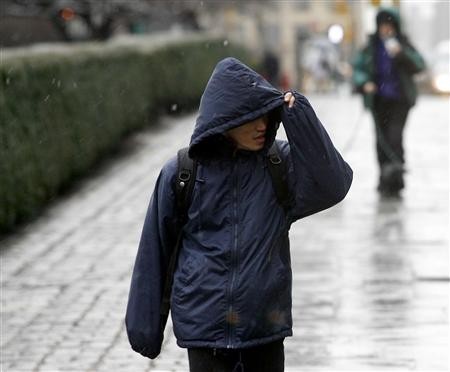 Pedestrians make their way through a snowfall in New York
Airlines, hoping to avert the type of storm-related service meltdown that stung JetBlue Airways Corp. in New York a month ago, began canceling flights on Thursday. Cancellations piled up during the day and by late afternoon there was little activity at busy New York-area airports.
Major cancellations were also reported in Philadelphia and Boston where snow, sleet and heavy rain disrupted operations along the Atlantic coast.
"The airlines are making these decisions," said Diane Spitaliere, a spokeswoman for the Federal Aviation Administration, which runs the nation's air traffic system. "It's a business decision."
Friday's storm was the first measurable test for the industry since JetBlue reignited customer and political outrage over airline customer service when it stranded hundreds of passengers on planes during an ice storm last month in New York. The February 14 storm prompted more than 1,100 JetBlue flight cancellations over several days as it scrambled to reset its operations.
JetBlue promised to act more decisively ahead of bad weather to avoid stranding passengers in airports, a strategy also practiced by other airlines.
JetBlue canceled 400 of 550 scheduled flights on Friday and 28 on Saturday. "We canceled everything into an out of New York," said spokesman Todd Burke.
Delta Air Lines canceled 600 flights, most in the New York area and US Airways Group Inc. said it canceled more than 1,000 flights, much of it feeder service from New England
Operations at United Airlines, American Airlines, Continental Airlines, Northwest Airlines, and Southwest Airlines also were affected by the storm.
Airlines waived fees and offered passengers affected by storm-related cancellations options for rebooking and future travel.