Morocco expressed deep concern over Syria's brutal crackdown on anti-regime protesters and called for an "inclusive" dialogue to end the crisis.
"The kingdom of Morocco, which has traditionally refrained from interfering in the internal affairs of other countries, expresses today its strong worries and deep concern over the sad events rocking Syria," the foreign ministry said in a statement late Wednesday.
Expressing concern over the "numerous victims, especially civilians," the statement called for a "deep and inclusive dialogue" between the regime of President Bashar al-Assad and protesters.
Washington also called for greater international pressure on Assad ahead of a UN Security Council meeting on Syria, when a top UN official is to brief the council, one week after it condemned the government violence.
Brazil, India and South Africa have all stepped into the diplomatic fray along with Arab nations to seek an end to the bloody crackdown that has claimed more than 2,000 lives since mid-March.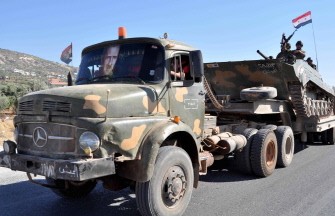 A handout picture from the Syrian Arab News Agency (SANA) shows Syrian soldiers withdrawing on army lorries on August 10, 2011

Syria

n security forces have shot dead 17 people in a protest hub, activists said, while Western nations ramped up calls for action after a "chilling" UN Security Council briefing.

After a defiant President Bashar al-Assad pledged early this week to pursue a relentless battle against "terrorist groups," activists said Wednesday that regime forces shot dead 17 people in the city of Homs, wounding another 20.

"Some bodies are lying in the sun and people cannot remove them because of the shooting," an activist said in a telephone interview from the central city.

An AFP correspondent on a government-sponsored tour confirmed reports of a military pullout from the flashpoint west-central city of Hama, but there were signs elsewhere of an intensifying crackdown by Assad's regime.

Rights activist Rami Abdel Rahman of the Britain-based Syrian Observatory for Human Rights said troops were conducting a vast operation in the northwestern town of Sermin, where a woman was killed.

Explosions and heavy gunfire also echoed in the eastern oil hub of Deir Ezzor and residents were fearing a new military operation in the city where the army killed 42 people on Sunday and 17 on Tuesday, said Abdel Rahman.

Western nations, meanwhile, stepped up demands for UN measures against Assad after a top UN official told the Security Council how the Syrian leader had ignored calls for an end to bloodshed in his country.

But Security Council battlelines were drawn when Russia's UN envoy said calls for sanctions did not help end the Syria crisis in which rights groups say more than 2,000 civilians have now died.

UN Assistant Secretary-General Oscar Fernandez-Taranco briefed the 15-member Security Council behind closed doors about events in Syria in the week since the council called for an "immediate" halt to the violence.

Taranco was quoted as saying there had been no letup in the deaths of protesters -- with at least 87 people killed across the country on Tuesday alone -- while UN officials had met Syrian diplomats to try to get accurate information.

Syrian security forces cut power and communications to protest towns targeted by operations, he added. Taranco spoke of reports of summary executions and soldiers defecting because of a shoot-to-kill policy, diplomats said.

In a bid to keep Syria high on the Security Council agenda, Western nations pressed for a new report next week with briefings from the top UN human rights and humanitarian officials.

Western envoys said the Security Council would have to consider "further action" if events did not improve by the next report.

Taranco's briefing had been "depressing and chilling," Britain's deputy UN ambassador Philip Parham told reporters.

Assad was said to have admitted his security forces had made "some mistakes" in battling protests, as he met with several UN Security Council members in Damascus.

The deputy foreign ministers from the three emerging powers of Brazil, India and South Africa met Assad and Foreign Minister Walid Muallem to call for an "immediate end to all violence" in Syria, a statement said.

Assad "acknowledged that some mistakes had been made by the security forces in the initial stages of the unrest and that efforts were underway to prevent their recurrence," said the statement released by India's UN mission.

At the UN, US ambassador Susan Rice took an increasingly tough line on a day in which Washington imposed sanctions on Syria's largest commercial lender, Commercial Bank of Syria, and largest mobile phone operator, Syriatel.

Assad has met "calls for change with cruelty and contempt," she told the meeting. Thousands of innocent people had been "killed in cold blood" and "Assad has breached the most basic rules of diplomacy by sending thugs to attack diplomatic missions."

Rice said the United States and Europe were bringing "greater pressure to bear on the Syrian regime through further coordinated diplomatic and financial measures."

But Russia's UN ambassador Vitaly Churkin said US calls for sanctions were not helpful, and instead urged "restraint, reform and dialogue."

Troops backed by tanks stormed Hama on July 31, the eve of the Muslim holy month of Ramadan, to fight "armed groups," killing 100 people in the single bloodiest day since the crackdown began, activists say.

The bloodshed triggered a deluge of international condemnation and prompted the Security Council, under pressure from European and US leaders, to issue a statement demanding an end to the violence.

Since then, three Arab countries, including heavyweight Saudi Arabia, have recalled their ambassadors to Damascus for consultations as more Arab voices rose to condemn Syria over its crackdown.

Steadily escalating US rhetoric against Assad, including a warning that he is now a source of regional instability, has fueled expectations that President Barack Obama's administration will soon formally call for him to go.

But Washington again stopped short of explicitly calling for Assad to leave power, but said it would help his people achieve "dignity and freedom."

The White House stuck with a rhetorical formulation toward Syria adopted last week, saying the country would be a "better place" without Assad and that he had lost legitimacy.