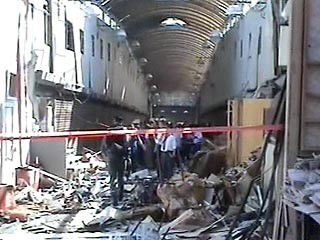 Security force investigates the blast scene at the Moscow's Cherkizovsky market, August 21, 2006 (NTV Photo)
An explosive device went off at Moscow's Cherkizovsky market on Monday, a spokesperson at the Moscow Interior Department's public relations service told ITAR-TASS. He said there was only one explosion at the market.
The Moscow prosecutor's office has opened a criminal case on the criminal code's article "murder".
The makeshift explosive device that went off at the Cherkizovo market place in Moscow had been hidden in a bag, law enforcement sources said. The yield of the uncased explosive device that went off at Moscow's Eurasia marketplace in Cherkizovo on Monday morning measured over 1 kg of TNT, Moscow's Prosecutor Yuri Syomin has said.
"The blast occurred between two containers insides a trade pavilion. There was a natural gas cylinder next to the bomb, so it was in the center of the blast, too," Syomin said.
"Two unidentified persons left the bag in a cafe and dashed out. A short while later the bomb exploded," the source said quote eyewitness accounts. Police detectives are working on the identikits of two men suspected in staging an explosion
"A makeshift explosive device was blown up at 10:30 in the territory of the market. A crisis management center has been formed to eliminate the effects of the blast. As far as I know, there was one explosion, but the way I see it, it was not an accident but a premeditated act. The city will extend material assistance to all victims and their relatives. We shall see to it to ensure the assistance is effective," Moscow's First Deputy Mayor Vladimir Resin has told.
Source: Itar-tass