Egypt's embattled President Hosni Mubarak took a step towards democratic reform Tuesday in another bid to appease opponents as mass street protests against his regime entered their third week.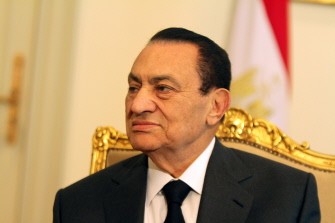 Egyptian President Hosni Mubarak meets with Emirates Foreign Minister Sheikh Abdullah bin Zayed al-Nahayan (unseen) in Cairo on February 8, 2011.
Mubarak has issued a decree forming a committee to oversee constitutional changes ahead of elections later this year, said Vice President Omar Suleiman, whom many now see as the effective power behind the throne.
"The president also tasked the prime minister with forming a follow-up committee to implement decisions taken by parties to the national dialogue," Suleiman said, in a brief televised address.
The vice president has begun meeting representatives of some opposition parties -- including the powerful Muslim Brotherhood, but not some of the street protest groups -- to draw up plans for a democratic transition.
Mubarak has promised not to stand for re-election in September, rebuffing calls for him to step down right away, but opposition groups say any election to replace him would not be fair under Egypt's current constitution.
Meanwhile, Egyptian protesters were once again massing in Cairo's Tahrir Square amid calls for renewed nationwide street action to mark two weeks of anti-government rallies that have rattled the regime.
Several thousand were already occupying the square -- the focal point of unprecedented protests calling for the end of Mubarak's 30-year reign -- sleeping under tents or rolled up in blankets at the foot of army tanks.
A massive banner that reads "The people want the end of the regime" hangs over Tahrir, but the 82-year-old strongman has ploughed on regardless, reshuffling his cabinet and offering reform but refusing to step down.
"Patriotic songs about the country used to sound exaggerated, but we own the country now," said 34-year-old doctor Issam Shebana, who came back from Sharjah in the United Arab Emirates to staff a makeshift clinic in the square.
"Yesterday, one man in his 60s said: 'We were cowards. We kept quiet all these years, but you've done it.' It's inspiring. It's a rebirth," he said. "I never thought I'd sleep on asphalt with rain on my face and feel happy."
The Internet has become a mobilising force for the protests and on its website one group, the "April 6 Movement," called for mass demonstrations later in the day, saying: "No one can stop us from continuing, for our country."
On Monday, Mubarak tried to buy time, pledging to raise public sector wages by 15 percent and ordering a probe into the recent deadly violence that has left at least 300 dead in the course of 15 days of protest.
The veteran leader met his new-look cabinet for the first time on Monday as the regime battled to get the economy moving despite ongoing demonstrations by pro-democracy activists occupying the Cairo square since January 25.
According to the official MENA news agency, the cabinet approved a plan to increase state sector salaries by 15 percent from April and to spend another 6.5 billion Egyptian pounds ($940 million) boosting pensions.
Mubarak also pledged to launch an "independent" investigation into deadly violence between his supporters and demonstrators on Wednesday and Thursday at Tahrir Square, which left 11 dead and nearly 1,000 injured, according to official estimates.
"Mubarak has also ordered the formation of a third committee to investigate the clashes that took place on Wednesday," Suleiman said.
The president met Emirati Foreign Minister Sheikh Abdullah bin Zayed al-Nahayan at the presidential palace in Cairo, his first high-level foreign visitor since he crisis began, and received a letter from the Emirati president.
The United States, meanwhile, urged Egypt to uphold existing treaties, in an apparent reference to the country's peace agreement with Israel.
Washington "will be a partner" to an Egyptian government that "will uphold the treaties and obligations" by which Cairo is presently bound, US President Barack Obama's spokesman Robert Gibbs said.
Egypt has played a key role in the Middle East peace process, becoming the first Arab country to officially recognise Israel with a peace treaty in 1979.
German magazine Der Spiegel reported Monday that preparations were under way for Mubarak to possibly visit Germany, where he underwent gall bladder surgery last March, for an "extended medical check-up."
"Preliminary talks with appropriate hospitals are ongoing," it said. AFP was unable to confirm the report.
While Mubarak has said he is "fed up" with leadership, he has said he must stay on until September's presidential election in order to ensure stability. bur-jaz/dc/sah/bpz