Myanmar on Thursday won approval to chair Southeast Asia's regional bloc in 2014, in a reward for hints of reform from its new government after decades of military rule.
Despite warnings from the US that the move was premature, leaders of the Association of Southeast Asia Nations (ASEAN) handed Myanmar the diplomatic prize at their summit on the Indonesian resort island of Bali.
"All leaders are in agreement that significant changes, significant developments, have taken place in Myanmar and those changes have made it more conducive for Myanmar to carry out this responsibility," said Indonesian Foreign Minister Marty Natalegawa.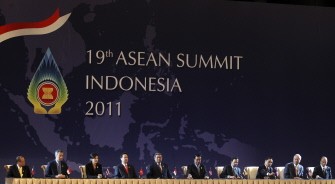 The leaders of the Association of South East Asian Nations (ASEAN)
In 2006, Myanmar was forced to renounce the ASEAN rotating presidency in the face of criticism over its human rights record and the ruling junta's failure to shift to democracy.
But since elections a year ago, the military-backed government has held direct talks with opposition leader Aung San Suu Kyi, freed 200 dissidents and frozen work on an unpopular mega-dam.
The regime is seeking to shrug off its image as an international pariah, but US President Barack Obama, speaking in Australia before travelling to Bali for Saturday's East Asia Summit, was cautious on the signs of reform.
He said that "violations of human rights persist" in Myanmar and that his administration would continue to push for change with a mix of sanctions and engagement.
"So we will continue to speak clearly about the steps that must be taken for the government of Burma (Myanmar) to have a better relationship with the United States," he said.
Rights campaigners say they fear that the reform drive could be reversed now that the the government has won the coveted ASEAN chairmanship, removing the incentive for more fundamental change.
Malaysian Prime Minister Najib Razak said that Southeast Asian leaders were satisfied with the momentum in Myanmar.
"The reforms may not reach the level that makes everybody happy but as far as ASEAN is concerned they are positive and encouraging signs," he said in Bali.
"That should help them along the way so that they can achieve more progress towards a more inclusive and fair democracy."
Along with the ASEAN chairmanship, the decision means Myanmar will host the East Asia Summit in 2014, which brings ASEAN members together with the United States, China and Russia, among others.
A senior Myanmar official at the Bali conference said his government was confident the United States would attend the 2014 meeting.
Asked whether he was concerned that Washington could decide to boycott, Sit Aye, senior legal adviser to Myanmar President Thein Sein, said: "I don't think so.
"We will take this responsibility of chairmanship seriously."
Natalegawa said that while ASEAN leaders recognised the positive changes that had taken place in Myanmar, more measures including prisoner releases would be welcome.
"There is inherent in this sentiment to closely monitor the developments in Myanmar because ASEAN wants to ensure that in 2014 Myanmar will be more than where they are now, towards more democratisation," he said.
Myanmar's resolve for reforms will be tested this Friday, when Suu Kyi's opposition party is expected to announce its return to the official political arena after years of marginalisation by ruling generals.
Senior members of the National League for Democracy are to gather in Yangon to discuss re-registering as a political party, after it boycotted last year's vote over rules that would have forced it to expel imprisoned members.
Myanmar has long been a source of embarrassment for the group's more democratic states, overshadowing other problem members such as communist Vietnam and Laos, which have significant human rights issues of their own.