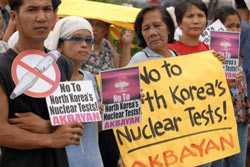 Demonstrators rally in Manila, October 10, 2006 against the DPRK nuclear test (AFP Photo)
Nations around the globe are weighing how to punish Democratic People Republic of Korea (DPRK) for its nuclear weapons test, with the UN Security Council considering tough sanctions on the secretive communist regime.
The United States led the charge at Monday's emergency session of the Council in New York, pushing for a raft of severe measures just hours after the North defied international pressure with its first-ever test of an atom bomb.
But it was not clear if nations united in condemnation of the test would find common ground on sanctions, or how effective they would be against a regime unable to feed its people yet still focussed on its weapons programme.
Japan, where new Prime Minister Shinzo Abe has been given an early test of his leadership, demanded a so-called Chapter VII Council resolution that would leave all options open -- including military action as a last resort.
"DPRK's latest announcement is a serious challenge to Japan's security," the government spokesman, Chief Cabinet Secretary Yasuhisa Shiozaki, quoted Abe telling his cabinet.
"It also is a grave threat against the peace and security of East Asia and the international community," he said.
Christopher Hill, the lead US negotiator in the stalled six-nation talks that tried and failed to persuade the North to abandon its nuclear ambitions, said the United States would make Pyongyang pay for testing the bomb.
"We're not going to accept that DPRK with its starving population is going to join the nuclear club," Hill said. "We're talking about really making it hurt."
The United States, which has made fighting nuclear proliferation a priority since the September 11, 2001 attacks, proposed a series of mandatory sanctions including inspections of all cargo in and out of DPRK.
It also called for financial curbs targeting the North's nuclear and missile programmes and restrictions on exports of goods that could have military uses.
China, the impoverished North's main provider of aid and only major ally, condemned the "brazen" weapons test. But it has a long-standing policy of opposing sanctions as a diplomatic tool -- and holds veto power on the Council.
China's UN ambassador Wang Guangya said he was ready to discuss "how the Council should react constructively and prudently with regard to this challenge," but held out hope there could still be negotiations with the North.
The UN body imposed limited sanctions on Pyongyang after it test-fired several missiles in July, a move the North called a de facto "declaration of war" before it went ahead with Monday's test.
Meanwhile in Republic of Korea (RoK), where officials were working on amassing more details of the underground test, President Roh Moo-Hyun was meeting with former presidents while the military was urgently reviewing defence readiness.
Unification Minister Lee Jong-Seok told parliament the government "believes DPRK actually conducted a nuclear test," but added it was premature to acknowledge the communist nation as a nuclear state.
"It is not only our basic policy to persuade DPRK to abandon its nuclear ambition, but the analysis (of the success of the test) between RoK and the United States has yet to be concluded," he said.
DPRK has repeatedly argued it needs nuclear weapons to deter any attack from the United States, which it fears will try to topple one of the last pure Communist regimes in the world.
In China, official media said its ally's test would leave the world's non-proliferation efforts in tatters.
Australia, one of the few nations to maintain diplomatic ties with DPRK, hauled in Pyongyang's ambassador Tuesday in protest and said the test had embarrassed Beijing, which had tried to prevent it.
"DPRK have humiliated the Chinese government," Australian Foreign Minister Alexander Downer said. "DPRK through its test has isolated itself not just from some countries, but from the whole world."

Source: AFP