NATO agreed to an emergency meeting of the NATO-Russia Council to be held on Tuesday to discuss the situation in Georgia's breakaway republic of South Ossetia, RIA_Novosti quoted the Russian mission to NATO as saying on Monday .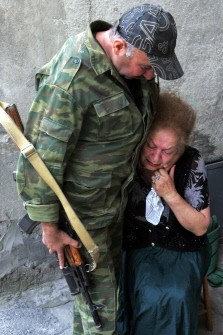 An Ossetian woman cries during a funeral on August 11, 2008 in Tskhinvali. (AFP Photo)
"NATO has agreed to our request for an emergency meeting of the Russia-NATO Council in Brussels," a Russian mission spokesperson said.
The meeting is expected to follow talks between Russia-NATO Council envoys and Georgia's foreign minister.
Georgia launched a major ground and air offensive to seize control over South Ossetia on Friday, which left around 2,000 civilians dead. The attacks prompted Russia to send in tanks and hundreds of troops. The capital of South Ossetia, Tskhinvali, has been virtually destroyed in the violence, and tens of thousands of residents have been left homeless.
On the same day, Russia's government has allocated $200 million in urgent aid for South Ossetia, to tackle a growing humanitarian catastrophe in the violence-torn Georgian province, RIA-Novosti quoted Russia's envoy to NATO as saying on Monday.
The breakaway republic will next year receive $400 million from Russia in reconstruction aid. Provincial capital Tskhinvali has been left in ruins by Georgia's military offensive, while Russia says more than 2,000 civilians have been killed, and over 34,000 have fled.
"Russia's government has urgently earmarked more than $200 million to prevent the humanitarian catastrophe from worsening," Dmitry Rogozin told a briefing.
Most of South Ossetia's 80,000 residents are Russian citizens.