BRUSSELS, June 10, 2011 (AFP) - US Defence Secretary Robert Gates warned Friday that military shortcomings among NATO members could jeopardise the alliance's air war in Libya.
With half of the countries in the 28-member alliance not participating in the Libya campaign, Gates said it reflected a worrisome lack of military assets.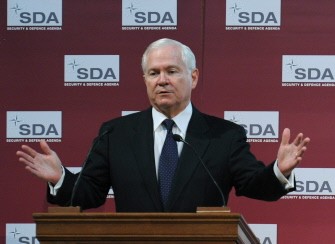 AFP - US Defence Secretary Robert Gates gestures as he delivers a speech to the Security and Defence agenda think tank in Brussels, on June 10, 2011.
"Frankly, many of those allies sitting on the sidelines do so not because they do not want to participate, but simply because they cannot. The military capabilities simply aren't there," Gates said in a speech in Brussels.
He said the NATO-led ground war in Afghanistan had scored important accomplishments but said the mission, along with the Libya war, had reflected chronic under-investment and at times a lack of political backbone.
"Turning to the NATO operation over Libya, it has become painfully clear that similar shortcomings -- in capability and will -- have the potential to jeopardise the alliance's ability to conduct an integrated, effective and sustained air-sea campaign," he said.
Gates acknowledged the mission has met its initial military goals of grounding Moamer Kadhafi's air force and limiting the regime's ability to launch attacks against civilians.
However, he said many allies lacked intelligence and surveillance aircraft and specialists, which meant the US military had to step in to ensure allied fighter jets could identify and strike targets.
The allies were also having to turn to the United States for more ammunition in the nearly three-month-old bombing campaign.
"Furthermore, the mightiest military alliance in history is only 11 weeks into an operation against a poorly armed regime in a sparsely populated country -- yet many allies are beginning to run short of munitions, requiring the US, once more, to make up the difference," he told the Security and Defence Agenda think-tank.
Gates warned during talks with NATO defence ministers on Wednesday and Thursday that NATO countries carrying out the bulk of the mission were increasingly feeling the strain and called on other allies to do their part.
He prodded Spain, Turkey and the Netherlands, which are playing other roles in the mission, to take part in the bombing raids, officials said.
Gates also urged two other countries that have sat out the operation so far -- Germany and Poland -- to play at least some role.