A coalition deal signed by prime minister designate Ehud Olmert's Kadima party and the centre-left Labour after weeks of fraught talks has enshrined his priority to separate from the Palestinians with or without their agreement.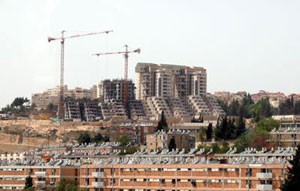 A settlement under construction in East Jerusalem
The draft programme of the new administration, widely quoted in the Israeli media on Friday, said the government will work "to shape the permanent borders of the state as a Jewish state with a democratic majority".
"The government will endeavor to stabilise the country's permanent borders. Israel's territories, whose borders will be determined by the government, will entail reducing the areas of Israeli settlement in Judea and Samaria (the West Bank)."
Olmert made the March 28 election a de facto referendum on his determination to fix the permanent borders of the Jewish within his four-year term of office.
Labour, like all potential coalition partners, has had to accept the outline of his plan that would see Israel uproot around 70,000 Jews from the occupied West Bank but hold on to the largest settlement blocs built on Arab territory.
The government's draft said it would work to shape the borders "through negotiation" with the Palestinians on the basis of mutual recognition, signed agreements, an end to violence and the disarmament of armed factions.
Should the Palestinians not measure up, however, Israel would be compelled to take action on the basis of a "national agreement" and consent with foreign allies, chiefly Washington, it said.
Israel and the West are demanding that the Hamas, which formed a Palestinian government last month, renounce violence, recognise the Jewish state's right to exist and abide by previous signed agreements.
"If the Palestinians do not act in accordance with these conditions in the near term, the government will also take action in the absence of negotiations and an agreement with them," the Haaretz daily quoted the draft as outlining.
Palestinian Authority president Mahmud Abbas, who was in Paris on Friday on the last leg of a European tour aimed at securing continued financial aid and restarting stalled Middle East peace talks, vigorously condemns unilateralism.
Olmert, however, is expected to hold talks and present his convergence plan to US President George W. Bush at their first meeting in Washington next month. He has already said he wants to implement his plan before the president leaves office in January 2009.
The ambitious border project is seen as a natural successor to former prime minister Ariel Sharon's disengagement plan that saw Israel pull all its soldiers and settlers out of the Gaza Strip last year.
But some observers believe that Olmert will have to settle for less grandiose achievements with Hamas in power, uncertain international support and Kadima's broad-based coalition which could yet become unstuck.
Rather than set final borders, some believe he may have to be content with a limited evacuation of small, isolated settlements outside Israel's controversial West Bank separation barrier which he has vowed to complete.
In terms of security, the government promises to fight "terrorism" as well as evacuate illegal outposts built by Jewish settlers without authorisation.
Thursday's coalition agreement with Labour, following a previous deal with the Pensioners party, gives Olmert a support base of 55 seats in the 120-member parliament, six short of the minimum majority of 61.
To that end, negotiations are continuing until the May 4 cut of date for a new government between Kadima and members of the ultra-Orthodox Shas, which has 12 seats, and United Torah Judaism, another Orthodox grouping with six MPs.