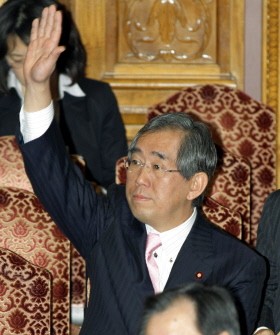 Takeaki Matsumoto raises his hand to answer a question at the Upper House's budget committee session at the National Diet in Tokyo on March 9, 2011. AFP
TOKYO, March 9, 2011 (AFP) - Japan's new Foreign Minister Takeaki Matsumoto is an earnest and straight-laced policy wonk from an illustrious family who counts the nation's first premier, a former samurai, among his ancestors.
A law graduate of the elite Tokyo University and a former banker, the 51-year-old entered politics more than a decade ago and has accumulated wide policy expertise in fields from diplomacy to defence and finance.
"He is a straight-laced man who hates anything that's dishonest," said Tsuyoshi Takagi, a conservative lawmaker who has known Matsumoto for years and served on a multi-party parliamentary committee with him.
"Because he is also very patient, he would hardly ever let others know even if he was a little bit upset," Takagi told AFP. "He is industrious, but on the other hand he may also lack flexibility somewhat."
Matsumoto's office declined to divulge any details about the family life of Japan's new top diplomat but offered that his hobbies are reading and swimming.
"I'd prefer to say his hobby is policy," said Tagaki.
Unlike his predecessor Seiji Maehara, who comes from a humble background and worked his way through school, Matsumoto hails from a prominent family which has served in Japanese politics and diplomacy for generations.
Matsumoto's father, Juro Matsumoto, was a senior member of the conservative Liberal Democratic Party, who served as chief of the Defence Agency, now the ministry of defence, from 1989 to 1990.
The new foreign minister is also the great great grandson of Hirofumi Ito, a samurai warrior who became Japan's first premier when the country ended two centuries of self-imposed isolation in the Meiji Restoration of the late 1800s.
Ito went on to serve as resident-general of Korea in 1905 when it was a protectorate of Japan, which later annexed the peninsula and ruled it until the end of World War II.
Ito was assassinated by a Korean nationalist in Harbin, China, in 1909.
Matsumoto, writing on his website, said he had once spoken with a member of the Kennedy clan of the United States, which has lost both John. F Kennedy and his brother Robert F. Kennedy to assassins.
"My ancestor, Hirofumi Ito, was also assassinated," Matsumoto wrote, "and it made me think about one's duty and destiny."