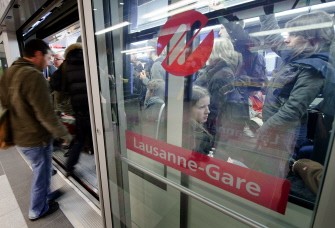 the first day of M2 Underground line's operation in Lausanne
Passengers enter a carriage during the first day of operation of the new M2 underground line on October 27, 2008 in Lausanne.
Lausanne launched its new metro line, laying claim to being the smallest city in the world with an underground transit system. The M2 is also the first city metro in Switzerland.
Many employees tried to close manually the doors of a carriage after a breakdown during the first day of operation of the new M2 underground line on Tuesday