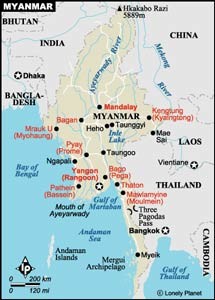 Signs of new oil and gas deposits have been discovered in the Myanmar's western coast.
Signs of new oil and gas deposits have been discovered off Myanmar's coast, the Myanmar Times newspaper reported, raising the prospect of further foreign investment in the country.
The newspaper quoted an official from the Myanmar Oil and Gas Enterprise (MOGE), who said that geologists from France and Myanmar had uncovered evidence of hydrocarbon deposits in deep water blocks off the western Arakan State.
"The survey area covered 2,500 square kilometres (965 square miles) and we made 15 multi-channel seismic surveys," Khin Maung Kyi, MOGE chief geologist, said of the survey sponsored by Frances Total Oil Company.
"We discovered thick sedimentary rock in deep water regions and found channels and basin floor fans, which are evidence of existing oil and gas reserves," he told the semi-official Myanmar Times.
Khin Maung Kyi said he hoped the surveys findings would attract foreign investment.
Myanmar is under western sanctions over its failure to carry out western countries' reforms claim and pressure the junta to release detained political activist Aung San Suu Kyi.
Despite the international condemnation, Myanmar's neighbors have been kept trade relations and cooperation with the country.
Natural gas from Myanmar currently makes up about 20 percent of Thailand's supply, and existing untapped gas reserves offshore in Arakan State have provoked a fierce bidding war between some countries.
Khin Maung Kyi said that results from the new Arakan State survey would be released by the French team in about six months.
The aim of the survey was initially to examine the movement of tectonic plates, Khin Maung Kyi said. The 33 geologists from College de France and five from Myanmar found no cause for concern in the plates' movements.
Source: AFP