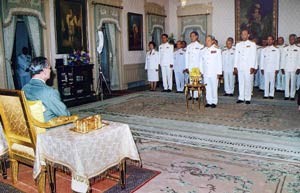 Thai Prime Minister, Surayud Chulanont, and his Cabinet stand during a swearing-in ceremony in front of Thai King Bhumibol Adulyadej (L) at the Royal Palace in Bangkok, October 9, 2006 (AFP Photo)
Thailand's new interim cabinet met for the first time Tuesday, but analysts say those hoping for a repeat of the reforming zeal that characterised the last post-coup government will be disappointed.
The king on Monday approved 26 post-coup cabinet ministers chosen by premier Surayud Chulanont, who was installed by the army leaders who overthrew former prime minister Thaksin Shinawatra in a bloodless coup on September 19.
But analysts say the choice of ministers suggests a cabinet that will simply take care of their ministries before handing over to an elected government, unlike the reforming zeal shown by the cabinet of Anand Panyarachun, who became premier after the kingdom's last coup.
"There are not the same guiding lights like Anand in 1991... these people are bureaucrats right from the top down," said Michael Nelson, politics lecturer at Bangkok's Chulalongkorn University.
"The cabinet under Anand was extremely busy and effective, they got so many laws passed so they were quite visionary and diligent. This cabinet is more administrative than visionary."
James Klein, Asia Foundation country representative in Thailand, said the mix of technocrats and bureaucrats suggested the cabinet would try and identify the issues that caused controversy during Thaksin's government, but would not forge ahead in a new political direction.
"They are there to handle the problems that have emerged over the last five years and seek solutions rather than going and implementing completely new policies," he said.
One of the key reforms pushed by Anand was to lessen the role of the military in politics, a stance that won him popular support.
He was also fiercely independent, and the junta that installed him had little control over his actions.
However some analysts think the military and Surayud have ensured not to make the same mistake again, selecting seasoned bureaucrats based on their loyalty to figures including army chief and coup leader General Sonthi Boonyaratglin.
"I am disappointed with the cabinet, naming many bureaucrats in the cabinet is not good idea," said political scientist Asadang Panikabutr, who accuses the military of playing favourites.
"They are and they were in high jobs before, and they did not do anything to make progress," he said.
Thailand's revered King Bhumibol Adulyadej on Monday addressed the new cabinet in a televised speech. He urged the ministers to complete their jobs with honesty and integrity, and said they must help clean up Thailand's tarnished international image.
"There are many who are not Thais, foreigners, who are saying that Thailand is not good, that must be corrected," the 78-year-old monarch said without mentioning the coup directly.
"If they say Thai people are not good that not only means rulers but all Thais are bad, and you must try to improve that, which is daunting task," he said.
But Asadang expressed concern that this was not the right cabinet to put the world's mind at rest.
"We lost our image after army forces staged a coup and now we have only this kind of cabinet," he said. "The prime minister should have taken more time to find right people."
However business leaders have hailed the team of economic ministers headed by the respected former Bank of Thailand governor Pridiyathorn Devakula.
Others have welcomed the military-backed premier's decision to assign ministries to people with a proven background in their fields.
"This cabinet has many experts who have experience which is suitable for their current situations," said Thawee Suratitikul, political science lecturer at Sukhothai Thammathirat University. "It's a good 'dream cabinet'."
And most analysts agree that the choices Surayud made indicate that the administration will keep its promise and return the country to a democratically elected government by October 2007.
"They basically said they would put together a civilian cabinet and that's what they did," said Klein, adding that they did it within the timescale they promised.
"I don't have any doubt that they will bow out after one year," said Nelson.

Source: AFP