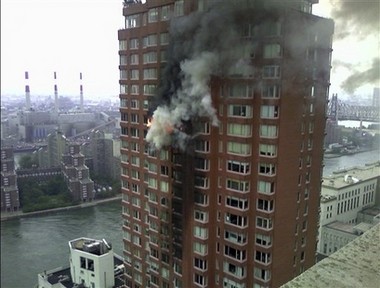 Flames and smoke are seen coming out of windows at the location where a small plane crashed into a 50-story residential apartment building near 71st Street and York Avenue in New York, October 11, 2006
A small airplane piloted by a US baseball star crashed into a high-rise apartment building in New York City, killing two people and triggering memories of the September 11 attacks of five years ago.
Although authorities ruled out terrorism, fighter jets were scrambled over US cities and New York authorities heightened security alert levels after the plane slammed into the building on Manhattan's posh upper east side.
The plane, a Cirrus SR20, was reportedly being flown by New York Yankees pitcher Cory Lidle, 34, and he was one of the two dead, the owner of his baseball team confirmed.
The single-engine plane struck the upper floors of the 50-storey apartment building around 2:45 pm (1845 GMT), raining down flaming debris and drawing an anxious crowd of hundreds of New Yorkers.
Mayor Michael Bloomberg said the plane took off from Teterboro Airport in New Jersey carrying a student pilot and instructor, circled the Statue of Liberty and then headed up the East River before dropping off radar screens.
He said there was no sign of terrorism and added, "Sadly an accident like this cost two people their lives. But I don't know that there's any greater significance."
New York state governor George Pataki said the crash triggered a heightening in alert levels. "The federal authorities have taken steps to put air cover over some of the cities in the country simply as a precaution," he said.
"Obviously, we have taken steps and the security level has been significantly heightened even from the normal level orange conditions until there is a final determination as to what exactly happened here," he added.
Televised images of the burning building evoked memories of the devastating attacks of September 11, 2001 on New York and Washington when Al-Qaeda militants flew hijacked airliners into the World Trade Center and the Pentagon, killing nearly 3,000 people.
Bright orange flames and columns of smoke billowed into the sky from the 50-storey building of luxury apartments on East 72nd Street. Firefighters contained the blaze at about 3:30 pm (1930 GMT).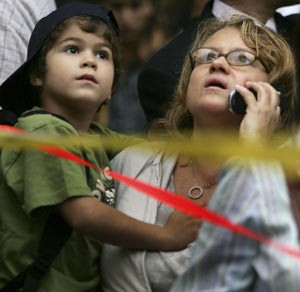 A woman and child look up at the smoldering Belaire Condo high rise building at 524 East 72nd Street after a small plane hit the building October 11, 2006 in New York City
Chris Foege, 38, a sales representative, was walking on a nearby street when she heard the crash. "I just stood there in shock, I thought 'this can't be happening to us again'," she said.
It was like "9-11 all over again."
"It was just incredibly loud, and it smelled really bad," she said.
In addition to the two fatalities, New York City's fire department said 11 firefighters and two civilians suffered minor injuries.
Emergency helicopters flew overhead as a crowd watched from streets below packed with emergency vehicles. Police closed off traffic to at least a six-block area around the site, which is down the street from Sotheby's auction house.
"There was a boom sound, but we weren't sure what it was, and then they told us to evacuate the building," said Lilian Regolia, who works opposite the building struck by the plane.
Another witness, Diane Tarantini, said: "I was sitting right in front of the building. I heard a loud whistling noise, I looked up and saw a flash ... stuff started falling down."
Deputy White House spokesman Tony Fratto said President George W. Bush was informed shortly after the crash. "The president is aware of it," Fratto said. "There is no change of the alert level."
The military nonetheless scrambled fighter jets above US cities as a precaution, said Admiral Tim Keating, commander of the US Northern Command.
Keating would not say how many cities were under air cover. "Fighters, along with early warning systems, they've been up there for half an hour, 45 minutes," Keating told CNN.
A Federal Aviation Administration (FAA) spokeswoman said private aircraft have the right to fly up the East or Hudson rivers.
"They were flying by visual flight rules in that corridor and (the plane) was not in contact with a tower," FAA spokeswoman Diane Sticaliere said.
Source: AFP