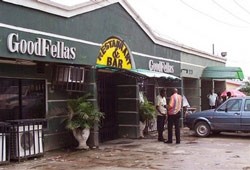 An outside view of the Goodfellas night club, where a number of foreigners were taken hostage Sunday in the city of Port Harcourt, Nigeria (AFP Photo)
Nigerian security agents on Wednesday launched an aggressive manhunt for the kidnappers of five foreign oil workers still held in the swamps of the restive Niger Delta region.
"We have moved into action following the president's directive," national police spokesman Haz Iwendi told AFP. "From now on, there will be no hiding place for the criminals, whose stock in trade is to kidnap foreign oil workers."
Nigerian President Olusegun Obasanjo on Tuesday ordered a massive clampdown on Niger Delta militants who have abducted some 14 expatriates in the past two weeks in and around Port Harcourt.
The city is the hub of the oil-rich but troubled Niger Delta region where oil firms have their operational bases. It has been the epicentre of a spate of hostage-takings in the west African country.
Iwendi said Obasanjo held a meeting with the country's top security chiefs on Tuesday at which he vowed to deal "firmly" with the kidnappers.
Some 14 foreign oil workers were taken prisoner in the last two weeks, but nine of them were released this week, leaving five in captivity.
On Monday in Port Harcourt four workers -- an American, a Briton, a German and an Irishman -- were abducted from a popular bar in the centre of the city.
Another German worker was seized in the city on August 3, for a total of five foreign oil workers still in the custody of their abductors.
The previously unknown Movement for the Niger Delta People (MONDP) claimed responsibility for the earlier kidnapping, demanding the release of two local leaders standing trial for corruption in exchange for his freedom.
No claims of responsibility have been made for Monday's abductions.