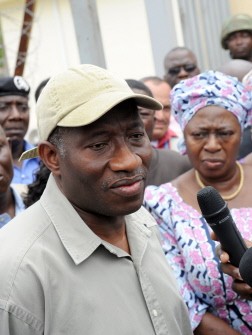 AFP - Nigerian President Goodluck Jonathan speaks after inspecting the United Nations building on August 27, 2011
ABUJA, Aug 27, 2011 (AFP) - Nigerian President Goodluck Jonathan on Saturday visited UN headquarters in the country's capital Abuja struck by a suicide bomb attack the previous day that left at least 19 dead.
He arrived at the site amid tight security along with a number of government officials, an AFP journalist reported.
"One thing is very clear: (a) terrorist attack on any individual or any group is a terrorist attack to the rest of the world," Jonathan said.
"It is not just about the UN office. We will work with the UN and all the world leaders, of course. Many of them have contacted me."
Asked about the Nigerian Islamist sect known as Boko Haram, he called it "a local group linked with terrorist acts and we as a government are working to bring it under control".
A man claiming to be a spokesman for the sect has claimed responsibility for Friday's attack, but police said they are looking at all possibilities.
The sect has been blamed for scores of shootings and bomb blasts in recent months, but it has not been known to target international organisations.
"We extend our condolences to the UN Secretary General Ban Ki-moon for these dastardly acts with loss of lives and destruction of property to the UN," Jonathan said at the site.
The Nigerian president on Friday condemned the attack and pledged that authorities would track down the perpetrators.
The bomber managed to make his way through two gates before ramming his car into the UN building.