The families of those killed in Northern Ireland on Bloody Sunday will finally get to hear Tuesday the findings of a long-awaited, mammoth inquiry into the highly controversial 1972 shootings.
The report from the longest and most expensive inquiry in British history will finally be published at 3:30pm (1430 GMT), with thousands expected to gather outside Londonderry's Guildhall to discover the verdicts.
The report examines the events of January 30, 1972 in Northern Ireland's second city, when 13 men were shot dead by British soldiers at a civil rights march. Others were injured and a 14th man died later from his wounds.
It was a landmark incident in The Troubles -- the three decades of violence in which more than 3,500 people died, which were largely ended by the 1998 Good Friday Agreement.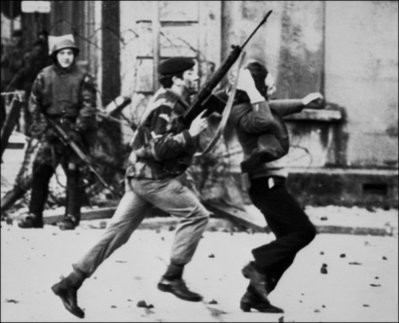 A British soldier drags a Catholic protester during the Bloody Sunday killings January 30, 1972 when British paratroopers shot dead 13 Catholic civil rights marchers in Londonderry
The inquiry took 12 years and more than 190 million pounds (275 million dollars, 230 million euros) to produce.
It is intended to paint a full, true picture of what happened on Bloody Sunday more than 38 years ago in Londonderry, known as Derry to Catholics.
Leo Young, 65, whose 17-year-old brother John was shot in the head, said Bloody Sunday had been "like having a bone stuck in your throat" for almost four decades.
"Occasionally you forget about it but every time you swallow there it is again," he told The Times newspaper.
"For 38 years it's consumed my life. If the truth comes out it will set me free."
The 5,000-page report was given to the British government on Monday, and Prime Minister David Cameron will make a statement on its findings in parliament's lower House of Commons in London at 3:30pm Tuesday.
The inquiry, headed by Lord Mark Saville, has been a "disaster in terms of time and expense", said Justice Secretary Ken Clarke, saying it had got "ludicrously out of hand".
The inquiry heard from more than 900 witnesses and received statements from around 2,500 people. The evidence ran to an estimated 20-30 million words.
Among the witnesses was Northern Ireland's Deputy First Minister Martin McGuinness, who admitted that he was an Irish Republican Army (IRA) paramilitary commander in Londonderry at the time.
"The citizens of Derry, to a man and woman, want Saville to make it absolutely clear that the 27 people who were shot on that day -- murdered and injured -- were completely innocent people and that those people who inflicted those deaths and injuries were the guilty parties," McGuinness said Monday.
An initial inquiry held in the weeks after Bloody Sunday largely exonerated the British paratroopers, saying that their firing "bordered on the reckless".
Londonderry-based academic Professor Paul Arthur claims the original tribunal had the appearance of a cover-up.
"It was seen as an establishment response and in many senses it did more damage than Bloody Sunday itself," he said.
Some have expressed concerns that, while the report might trigger calls for soldiers to be prosecuted, many paramilitary murders remain unaccounted for and paramilitary prisoners have been freed under the terms of Northern Ireland's peace accords.
Senior British army officers who served in Northern Ireland have said that if soldiers stand trial, then prominent IRA figures of the time should also face prosecution.
Eamonn McCann, chairman of the Bloody Sunday Trust, said Tuesday would be "a turmoil of emotion for the people of Derry," according to The Times.
The families of those killed are due to start a silent procession at 10:00am (0900 GMT) from the Bloody Sunday memorial on Londonderry's Rossville Street to the Guildhall, symbolically completing the march that was halted in 1972.
Two relatives for each victim are allowed inside to read the report before it is officially published.
In the afternoon, before Cameron speaks in London, marchers will follow the same route, with some media reports suggesting that up to 10,000 people could watch proceedings on a giant screen near the Guildhall.