SEOUL (AFP) – North Korea has postponed talks scheduled for Tuesday with the US-led United Nations Command about the sinking of a South Korean warship, the Command said.
Its army representatives requested a delay "for administrative reasons", the Command said in a statement, adding that a new time for the talks in the border truce village of Panmunjom was not immediately proposed.
It would have been the first such meeting since the warship went down in March near the disputed inter-Korean sea border with the loss of 46 lives.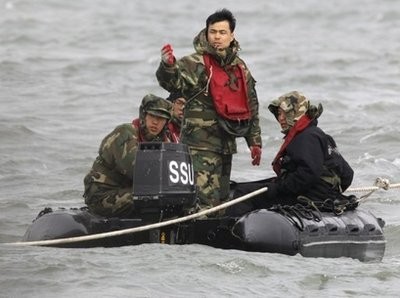 Members of the South Korean navy search an area of the Yellow Sea where the military vessel Cheonan was sunk near the border with North Korea in late March. (AFP files)
Regional tensions have risen sharply since South Korea, the United States and other nations accused the North of torpedoing the corvette, a charge it vehemently denies.
The planned colonel-level meeting was due to discuss arrangements for future talks at general-level on the incident.
The North previously refused to hold discussions with the US military over the sinking, saying it should talk only to the South Koreans, but it shifted its stance last Friday.
The UN Security Council condemned the attack in a statement Friday but did not apportion blame -- a result hailed by the North as a "great diplomatic victory".