SEOUL, Feb 19, 2009 (AFP) - North Korea said Thursday it was "fully ready" for war with South Korea, stepping up its rhetoric hours before US Secretary of State Hillary Clinton was scheduled to arrive in Seoul.
"The Lee Myung-Bak group of traitors should never forget that the Korean People's Army is fully ready for an all-out confrontation," a spokesman for the army General Staff said, referring to the South Korean president.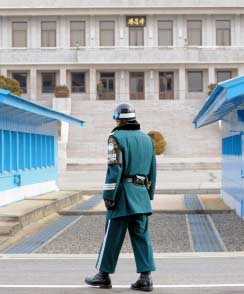 A South Korean soldier (C) stands guard as a North Korean soldier (background) looks on at the border village of Panmunjom in the demilitarized zone dividing two Koreas on Feb. 19Photo: AFP
The statement to the North's official Korean Central News Agency (KCNA) was the latest in a series of increasingly strident threats against the conservative government in Seoul which have raised cross-border tensions.
South Korean Defence Minister Lee Sang-Hee has said a limited naval clash may break out around the two countries' disputed border in the Yellow Sea known as the Northern Limit Line.
There were bloody naval clashes in 1999 and 2002 around the line.
"We expect various scenarios of North Korean provocation, including at the NLL," Kim Tae-Young, chairman of the Joint Chiefs of Staff, told a parliamentary hearing.
He said South Korean and US forces are prepared for any contingency, saying the two sides meet daily at daybreak to share and assess intelligence.
Minister Lee and other officials also say the North is preparing to test its longest-range missile, which could theoretically reach Alaska. Lee said Wednesday it could be ready for launch within two or three weeks.
Clinton, who was scheduled to arrive late Thursday, has said any missile test would be "very unhelpful" for US-North Korean relations and has urged Pyongyang to drop its harsh rhetoric.
Last month the North announced it was scrapping all peace accords with the South, including a 1991 pact that recognised the sea border as an interim frontier.