CHRISTCHURCH, New Zealand, March 5, 2011 (AFP) - The dean of earthquake-shattered Christchurch said he wept Saturday at the "unbelievable" news there were no bodies in the rubble of the city's cathedral.
Since the 6.3 magnitude quake on February 22, it was feared there were as many as 22 bodies buried in the rubble of the 130-year-old cathedral, the centrepiece of New Zealand's second city.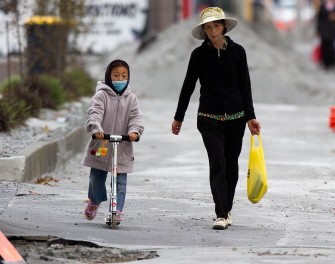 Residents make their way through downtown Christchurch on March 5, 2011. AFP
But the dean, Peter Beck, said he was advised early Saturday by the head of the Urban Search and Rescue task force there were no bodies inside.
"I was expecting to get a call from him saying they had found a body and I and my colleagues were going to go down and say prayers at the side of the body.
"But of course I got this other news and I just burst into tears. I was speechless, it was unbelievable."
The confirmed death toll from the destructive earthquake stood at 165 on Saturday and police had previously said they expected it to rise to more than 240, although this figure may now be reduced.
Police superintendent Sandra Manderson told Radio New Zealand that officials were trying to establish where the estimate of 22 people trapped in the cathedral had come from and the list of missing people was being reviewed.
"Urban search and rescue have cleared the whole area, they've cleared the tower, they've cleared the church and they've cleared the immediate surrounding area all round the church, and they've found no bodies," she said.
"It will be really good if (the likely toll) does go down, and it's highly possible."
The assistant Urban Search and Rescue Force commander Paul Baxter confirmed his team had completed clearing the inside of the collapsed cathedral spire and "it is clear".
Baxter told a media conference it had been a "surreal feeling" when they completed the search of the cathedral without finding any bodies.
Meanwhile, plans were under way to reduce the area of the city cordoned off for the past 10 days to allow access for inner-city residents and business owners.
Areas where search teams had made considerable progress clearing destroyed buildings would be open from Sunday, and people would be able to remove equipment and secure their properties.
Christchurch Mayor Bob Parker said he wanted a day of remembrance which would include a safe walk through the central business district so people could see first hand the level of destruction.
"We need to have that opportunity to remember, to grieve not only for the people that we have lost, but also for those buildings that are part of the story of our lives."
Across the wider city about 14,000 homes were still without electricity Saturday and power company executives said it was unlikely they could complete the restoration until early next week, a fortnight after the earthquake.
Australian Attorney-General Robert McClelland, who is visiting Christchurch, said it would be a challenge balancing the availability of tradesmen with the rebuilding projects in Christchurch and the flood and cyclone devastated Australian state of Queensland.
"These are the sort of things that we would talk about at a government to government level. We recognise each other's needs and getting that balance right are things that we will discuss as part of the normal course."
New Zealand's Earthquake Recovery Minister Gerry Brownlee said many of the historic buildings damaged in the earthquake would likely be demolished and the city would forge a new heritage.
"While they are part of our past history, they have no place in our future history. As I've said repeatedly, heritage is both forward and back and from this point on, we decide what the heritage of this city will be."
Brownlee said only four buildings including Christchurch Cathedral and the Catholic Basilica would be rebuilt, but all other historic stone buildings could go.
Officials have said it will take at least 10 years to rebuild Christchurch. The reconstruction bill for the city has been estimated at up to NZ$16 billion ($12 billion).