TOKYO, March 14, 2011 (AFP) - Japan's nuclear safety agency said there is "absolutely no possibility of a Chernobyl" style accident at the Fukushima No. 1 plant, the national strategy minister said Monday, as quoted by Jiji Press.
The minister, Koichiro Genba, made the comment citing the Nuclear and Industrial Safety Agency at a meeting of the ruling Democratic Party of Japan.
Millions of Japanese people were without food, water or power Monday and hundreds of thousands more homeless after a massive quake and tsunami left the economic superpower battling third-world conditions.
Aid workers and search teams from across the world joined 100,000 Japanese soldiers in a massive relief push as the rattled country suffered a wave of major aftershocks and fresh tsunami scare, while temperatures plummeted.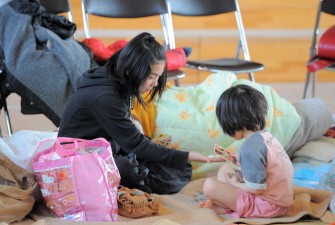 Residents shelter in an evacuation center at Sendai city in Miyagi prefecture on March 14, 2011. AFP
Store shelves and petrol stations emptied across the country as panic buying took hold, while 2.6 million houses were without electricity and 3.2 million people were running out of gas supplies according to the United Nations.
Hard-hit Ishinomaki, a town of about 165,000, is without power or communications and aid supplies have faltered due to transport damage. Half of the city is estimated to have been engulfed by the tsunami.
"First of all, we have no drinking water," mayor Hiroshi Kameyama told public broadcaster NHK. "We also have neither food nor information."
Asia-Pacific Red Cross spokesman Patrick Fuller, working in Ishinomaki, said it was a "desperate race against the clock to save those who may be trapped and wounded beneath colossal mounds of debris".
"At the Red Cross hospital, no space is left unused. Exhausted Red Cross medics sleep side by side with the wounded," Fuller said in a Red Cross blog.
"And still droves of injured people in need of medical help arrive. The wounded arrive on foot, by helicopter or carried by their fellow citizens."
At least 1.4 million people in Japan are temporarily without running water and more than 500,000 people are taking shelter in evacuation centres, said the UN's Office for the Coordination of Humanitarian Affairs (OCHA).
"The main humanitarian needs are food, drinking water, blankets, fuel and medical items which the government and private sector in Japan are urgently mobilizing and sending to the affected area," OCHA said.
Rolling blackouts began across the nation in a bid to save power, with the heavily nuclear-dependent nation rocked by explosions and meltdown fears at its Fukushima power plant as well as an oil refinery fire.
The UN said power and gas supplies were critical, with the Japanese winter bringing sub-zero temperatures overnight and snow and rain forecast for coming days.
"Rescue and relief operations are being hampered by continuous aftershocks, tsunami alerts, and fires," OCHA said.
"Many areas along the northeast coast remain isolated and unreachable by emergency services."
Soldiers were distributing heaters, emergency rations, blankets and water, and the military said some 10,000 people had been rescued.
There had been landslides in dozens of regions and roads, bridges and railways had been washed away, while major highways to the ravaged northeast were closed to all but emergency traffic, according to the Japanese Red Cross.
Boats, planes and helicopters were being used to ferry supplies and effect rescues but teams were facing significant logistical problems.
Medecins Sans Frontieres said water, food and blankets were the number one priorities on the ground and medical needs were growing across the country's 2,000 evacuation centres.
"Clearly the level of devastation is huge, but the response by the Japanese authorities is also massive," MSF Japan director Eric Ouannes told AFP.