UNITED NATIONS, Sept 23, 2010 (AFP) - No meetings are yet planned between Japanese and Chinese officials on a dispute over a detained trawler captain that has turned into an acrimonious row between the Asian powers, a top Japanese official said late Wednesday.
"We are sending out a message that we wish to communicate with the Chinese side," Satoru Satoh, press secretary for Japanese Foreign Minister Seiji Maehara told AFP.
"But so far there is no response," he added.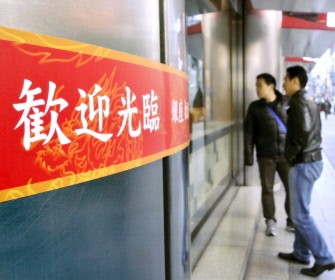 This file photo taken on December 25, 2009 shows shoppers passing a sign using Chinese characters reading 'welcome customers' at a Tokyo department store. AFP file
Maehara, Japan's Prime Minister Naoto Kan and China's Premier Wen Jiabao are all in New York for the UN General Assembly meetings. Satoh said "no meeting is planned."
China's premier has threatened "further actions" if Japan does not release the trawler captain, who was detained by the Japanese coast guard two weeks ago near islands in the East China Sea that are claimed by both countries.