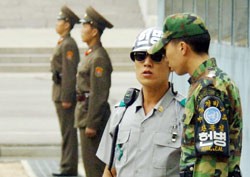 RoK's soldiers (R) chat as DPRK's soldiers stand guard (rear) at the border village of Panmunjom, October 11, 2006, in DMZ dividing the Korean peninsula
Democratic People Republic of Korea (DPRK) is ready to carry out more nuclear tests if the United States continues its "hostile" policy, a top leader in the regime was quoted as saying Wednesday.
"The issue of future nuclear tests is linked to US policy toward our country," Kim Yong-Nam said in an interview in Pyongyang with Japan's Kyodo News.
"If the United States continues to take a hostile attitude and apply pressure on us in various forms, we will have no choice but to take physical steps to deal with that," said Kim, who as head of the Supreme People's Assembly, is effectively the regime's number two.

Sanctions mean declaration of war: DPRK's offcial
Meanwhile a DPRK's official said Wednesday that any full-scale sanctions imposed to punish Pyongyang for its nuclear test would be a "declaration of war," according to South Korea's Yonhap news agency.
"If any full-scale sanctions are imposed, we will regard them as a declaration of war," the unidentified official in Beijing told Yonhap.
He said such full-scale sanctions would include a sea blockade, Yonhap reported.
"The harder the pressure will be, the stronger will be the level of our response," the official was quoted as saying.
The UN Security Council was Wednesday to discuss hitting DPRK with tough punitive actions for its nuclear test, as Pyongyang's closest ally China said it was ready to support some sanctions.
Japan and the United States both proposed strong measures to the council's key members after Pyongyang's announcement Monday of its first nuclear test.
The United States is pushing for interdiction of suspicious ship-borne cargoes.

The test was smaller than expected
A DPRK's diplomat was quoted on the website of local newspaper Hankyoreh as admitting that the test, which the North has proclaimed as a success, was smaller than expected.
"The test was smaller in scale than anticipated," the unidentified diplomat was quoted as saying in Beijing. "But the small-scale success means a large-scale (test) is also possible.
"Nuclear testing is aimed at possessing a nuclear weapon. So additional measures are duly possible."
Source: AFP
Related Articles:
Security Council Expected to Hold Emergency Meeting on DPRK's Nuclear Test
North Korea Conducts First Nuclear Test