North Korea's leader Kim Jong-Il arrived in Russia on Saturday for his first visit in nearly a decade, reaching out to the giant neighbour as Pyongyang battles isolation and hunger.
The reclusive Kim travelled in his armoured train, crossing Russia's Far Eastern border in the early hours and was due to hold talks with President Dmitry Medvedev later this week.
During the rare, secrecy-shrouded visit, his first since 2002, the 69-year-old Kim is expected to tour Russia's Far East and Siberia for about a week, a Kremlin official told AFP.
"A meeting between Russian President Dmitry Medvedev and Kim Jong-ll will be the main event of the visit," the Kremlin said separately in a terse statement.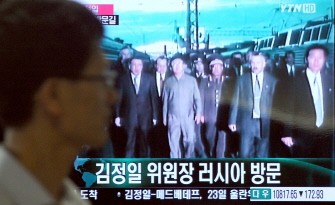 A South Korean walks past by a TV feeding file video footage of North Korean leader Kim Jong-Il's last visit to Russia in 2002 at a train station in Seoul on August 20, 2011
Kim, known to dislike air travel for security reasons, crossed the Tumangan river into Russia earlier on Saturday.
Kim, who at home enjoys a personality cult bordering on religion, did not even disembark at Khasan Station, Alexander Naryzhny, head of Khasan district told AFP.
Russian television showed the bespectacled leader in his trademark military-style suit managing a half-smile and waving at the Russian officials who lined up at the railway station for a welcome ceremony under clear sunny skies.
Kremlin's regional envoy Viktor Ishayev and regional governor Sergei Darkin held brief talks with Kim aboard his train, said Naryzhny, noting that the Kremlin envoy then stayed on the train to accompany Kim on his journey.
Talks with Medvedev are expected to focus on North Korea's nuclear programme, energy and other projects and worsening food shortages in Kim's isolated state.
His arrival comes a day after the Russian foreign ministry said Moscow was sending up to 50,000 tonnes of wheat to help North Korea cope with an "acute shortage of food supplies."
A Kremlin spokeswoman, speaking to AFP on condition of anonymity, said the meeting between Medvedev and Kim was scheduled for the "middle of the week".
Citing security concerns, she declined to give details.
The meeting is widely expected to take place in the eastern Siberian city of Ulan Ude near Lake Baikal in the Buddhist region of Buryatia.
South Korea's Yonhap news agency, citing an informed source in Moscow, said the leaders would meet there on Tuesday.
It said Kim was also expected to visit a dam in Ussuriysk, near the Pacific port of Vladivostok.
Kim last travelled to the Cold War ally in 2002 when he met then president Vladimir Putin in Vladivostok.
Putin's spokesman Dmitry Peskov told AFP on Saturday a meeting between Putin and Kim was not scheduled this time.
The visit comes at a sensitive time for the two countries. Russia is heading into crucial presidential polls in 2012, in which the big unknown is whether it will be Putin or Medvedev who will run.
North Korea's food crisis, meanwhile, has put hundreds of thousands of people at risk in the Stalinist state.
The situation has become so dire that an increasing number of North Koreans have resorted to eating grass, the European Commission has said.
A professor at the University of North Korean Studies in Seoul, Yang Moo-Jin, said Kim's visit was aimed at obtaining more food aid and economic assistance from Russia.
Kim was also expected to seek Moscow's support for a third-generation father-to-son succession by Kim's youngest son and heir apparent Kim Jong-Un, as well as Russia's help in trying to start up stalled talks on North Korea's nuclear disarmament.
Moscow, keen to promote itself as a negotiator capable of dealing with so-called pariah regimes, is expected to tout Kim's visit as a diplomatic coup.
Kim and Medvedev had been expected to hold a bilateral summit in or near Vladivostok earlier this summer. A Kremlin official was quoted as saying at that time that Kim had cancelled out due to media leaks about the visit.
The impoverished communist country has relied heavily on international aid to feed its 24 million people since natural disasters and mismanagement devastated its economy in the mid 1990s.
In May, Kim visited China, a third visit in just over a year to his country's sole major ally and economic lifeline.