CHRISTCHURCH, New Zealand, Feb 26 (AFP) – New Zealand Prime Minister John Key warned the country may be facing its greatest tragedy as the death toll from this week's earthquake surged to 145 with 200 missing.
Key said Tuesday's tremor, which toppled office buildings and rained debris on busy Christchurch streets, "may be New Zealand?s single most tragic event", outstripping a 1931 quake which killed 256.
Entire blocks will have to be razed after the catastrophe, which left up to a third of the city centre facing demolition along with parts of outlying suburbs, and cut power and water supplies to most of the 390,000 population.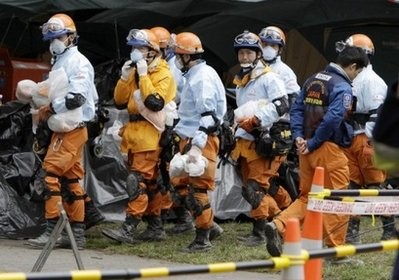 AFP - Relief workers from Japan are seen walking though the central earthquake zone in Christchurch, four days after a deadly quake rocked New Zealand's second largest city.
Key, who met relatives of those dead and missing in the stricken city, announced a tribute of two minutes' silence on March 1, one a week after the quake struck at 12:51 pm on Tuesday.
He said the silence was was a chance "to stop and remember those who have lost their lives, those who are missing, and the hundreds of people who are mourning family and friends."
Key said relatives were fearing the worst, three days after rescuers now numbering in their hundreds last detected any signs of life in the twisted wreckage.
"I think it's fair to say they (relatives) fear the worst but there is still a glimmer of hope," he said. "They are full of fear because a significant period of time has elapsed."
Police said 145 bodies had been taken to a temporary morgue, and that there were "grave concerns" for the 200 listed as missing. They include a large number of Asian students feared lost in a collapsed language school.
Officials warned Christchurch may be unable to host the Rugby World Cup which takes place in September and October.
Earthquake Recovery Minister Gerry Brownlee urged the city to be "realistic" about holding World Cup matches after widespread damage to infrastructure and facilities, including the rugby stadium.
"To lose the Rugby World Cup from Christchurch would be a massive blow," Brownlee told TVNZ. "I don't want to see it happen but we've got to be realistic about the prospect."
Rugby-mad Christchurch, New Zealand's second-largest city, is one of the main venues for the seven-week competition, and is slated to hold two quarter-finals on October 8 and 9.
Although Stadium Christchurch has only minor damage, the pitch has been hit by liquifaction, when soil becomes a quagmire due to the ground's shaking. The venue has been closed for two weeks for checks.
Stadium officials also reported serious damage around the venue, which is just two kilometres (just over a mile) from the city centre -- where Christchurch's biggest hotel is tottering and in danger of collapse.
On Saturday, engineers said as much as a third of the central district, where office buildings folded like packs of cards and entire streets lost their shop frontages, may have to be demolished and rebuilt.
"We've collected some data over the past couple of days and it's looking like about one-third of the buildings (would be condemned)," Auckland University structural engineer Jason Ingham told TVNZ.
"We will have to prune this city and we'll have to prune it hard," city mayor Bob Parker told Sky News. "Entire blocks are going to have to go."
Brownlee said the centre may be closed for months.
Power has now been restored to most of the city but many of its 390,000 residents are without water and relying on supplies brought by tanker.
Officials said more than 62,000 homes have no water supplies and 100,000 properties are without sewerage, while 800 portable toilets were being put in place to help ward off the threat of disease.
Despite a major international search operation involving some 700 specialist personnel, no survivors have been pulled out of the quake wreckage since Wednesday.