WASHINGTON, Feb 24, 2009 (AFP) - US President Barack Obama on Tuesday urged Congress to draft legislation setting market-based caps on carbon gases in a bid to combat global warming.
"To truly transform our economy, protect our security, and save our planet from the ravages of climate change, we need to ultimately make clean, renewable energy the profitable kind of energy," Obama said in his maiden speech to Congress.
"So I ask this Congress to send me legislation that places a market-based cap on carbon pollution and drives the production of more renewable energy in America."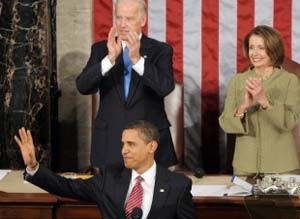 US President Barack Obama acknowledges applause prior to addressing a Joint Session of Congress at the Capitol in Washington on Feb. 24 (Photo: AFP)
The United States is the world's largest emitter of carbon gases, blamed for global warming, yet the previous administration of president George W. Bush walked away from the Kyoto treaty aimed at battling climate change.
A day after a new report highlighted that the effect of even slight temperature increases may have been underestimated, Obama highlighted energy as critical to the economic future of the world's top energy consumer.
He pledged it would be one of three key areas -- along with health care and education -- that he would focus on in his first budget to be laid before US lawmakers in the coming weeks.
The president vowed to pump 15 billion dollars a year into developing technologies like wind power and solar energy, vowing to double the country's supply of renewable energy in the next three years.
Obama also praised China for making the largest effort in history to make its economy energy efficient, and warned that the United States which invented solar technology was falling behind its competitors in Germany and Japan.
"New plug-in hybrids roll of our assembly lines, but they will run on batteries made in Korea," he said sternly.
Energy Secretary Steven Chu has already floated the idea of a carbon emissions tax to fight global warming, in an interview last week with The New York Times.
During the US presidential campaign, the notion was kept largely on the back burner as candidates were reluctant to promote the idea of costlier energy at a time when gasoline prices were soaring.
But since Obama's administration took office in January, Congress has been working on setting up a system for swapping greenhouse gas emissions quotas similar to the one used in the European Union.
And Chu said "alternatives could emerge, including a tax on carbon emissions," the Times reported.
Chu, a Nobel laureate in physics, long concerned about global warming, acknowledged it would be a tough sell to get a law passed in the United States that could lead to higher energy prices.
But he said he "supports putting a price on carbon emissions to begin to address climate change" the daily said.
A study published Monday by the Proceedings of the National Academy of Sciences which updated a 2001 assessment by the Inter-governmental Panel on Climate Change warned the risks of even small changes in average temperatures had been underestimated.
The new study found that even small changes of global mean temperatures could produce the kinds of conditions singled out as "reasons for concern" in the 2001 assessment.
Those included risks to threatened systems such as coral reefs or endangered species; and extreme weather events like cyclones, heat waves or droughts.