WASHINGTON, Feb 18, 2009 (AFP) - Barack Obama is to visit Canada on Thursday to discuss a recession, war in Afghanistan and other weighty files, but also to usher in a new era of US foreign policy in this US president's first foreign trip.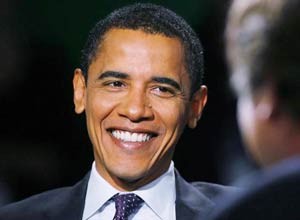 US President Barack Obama
Because the United States is now gripped by the worst economic crisis in decades and its economy is so closely tied to Canada's, Obama is to focus on how the world's largest trading partners might foster a recovery, say aides.
In talks with Canadian Prime Minister Stephen Harper, he will also touch on the NATO-led war in Afghanistan, climate change and energy security, they said.
More than 1.6 billion dollars (US) worth of goods cross their shared 9,000-kilometer (5,600-mile) border each day, Obama noted. The problems of the US economy, of its auto industry, for example, are also Canada's problems.
Last year, Canadians worried when Obama on the campaign trail suggested re-opening the 1994 North American Free Trade Agreement that binds the economies of Canada, Mexico and the United States, and this week let pass a "Buy American" clause in his stimulus package.
"I don't think they should be too concerned," Obama told public broadcaster CBC on Tuesday.
A lot of US state governors and city mayors, he said, are likely to want to spend stimulus funds on American suppliers, but the United States will abide by its trade obligations "just as we always have."
As for renegotiating NAFTA, Obama advisor Denis McDonough minimized the scale and timing of any proposed changes, saying Obama simply wants Canadians and Mexicans to "understand" his proposals to bolster the trade pact's environmental labor provisions, but not demand that US trade partners buy in.
Also, now is not the best time to implement changes to NAFTA given the sluggish economies of all three nations, he said.
Because Obama's administration is only a month old, and its policies are still being hammered out, his few hours in Ottawa on Thursday are not likely to lead to any major announcements, officials said.
Obama will not ask Canadians to reconsider their decision to pull out of Afghanistan in 2011. But he will present his Canadian counterpart a sweeping strategy to secure and rebuild Afghanistan that he said he hoped Canadians would support. "We've got until 2011," he noted.
When he lunches with Prime Minister Harper or meets with Canadian opposition leader Michael Ignatieff, he will simply exchange views and try to build ties.
A press conference with Harper will provide him an opportunity to speak directly to Canadians while the lack of pageantry, according to experts Peter DeShazo and Jessica Horwitz, signals a "get down to business attitude and willingness to listen to and consult with his key allies."
At the White House, McDonough echoed that the trip would underscore for the entire world "that it's vitally important that America revitalize its alliances."
The George W. Bush administration was disastrous in the eyes of most Canadians. In 2005, 38 percent of Canadians judged Bush to be "more dangerous" than Al-Qaeda leader Osama bin Laden.
Obama, meanwhile, is viewed favorably by 82 percent of Canadians, according to a recent poll.
Canada is almost a necessary first stop for the US president. Three of the past four US leaders came first to Canada. "It wasn't the case with president Bush and Canadians felt snubbed," commented Jodi White, public policy scholar at the Woodrow Wilson Center.
Canadians, she said, are likely to view this trip as a "very important signal" of a return to tradition, while Canada's Harper, much less popular than his guest, could use good relations with Obama to boost his own political fortunes.