President Barack Obama said Tuesday that the United States has opened a new era of diplomatic engagement, vowing to seek peace in the Middle East and to chart a new course in Afghanistan.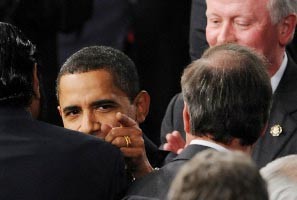 US President Barack Obama is greeted on the floor of the House Chamber prior to addressing a Joint Session of Congress at the Capitol in Washington on Feb. 24 (Photo: AFP)
Obama, delivering his first address to Congress, declared unequivocally that the United States will not torture prisoners but also pledged to swiftly punish captured terrorists.
"In words and deeds, we are showing the world that a new era of engagement has begun," Obama told a joint session of Congress little more than a month after he took office.
"For we know that America cannot meet the threats of this century alone, but the world cannot meet them without America."
"We cannot shun the negotiating table, nor ignore the foes or forces that could do us harm. We are instead called to move forward with the sense of confidence and candor that serious times demand."
Obama highlighted his appointment of Middle East envoy George Mitchell, saying his administration would "seek progress toward a secure and lasting peace between Israel and her neighbors."
Mitchell, a former senator and architect of the Northern Ireland peace process, just left on a second tour of the Middle East.
His hectic schedule marks a change from the previous administration of president George W. Bush, who did not actively engage in Middle East diplomacy until late in his tenure.
The Obama administration this week is also holding three-way talks with Afghanistan and Pakistan, hoping to chart out a new strategy to fight extremists in the region.
Obama has pledged to send another 17,000 troops to Afghanistan as the United States winds down its controversial troop presence in Iraq.
"I will soon announce a way forward in Iraq that leaves Iraq to its people and responsibly ends this war," Obama said.
"With our friends and allies, we will forge a new and comprehensive strategy for Afghanistan and Pakistan to defeat al Qaeda and combat extremism," Obama said.
"Because I will not allow terrorists to plot against the American people from safe havens half a world away."
Obama, as one of his first acts, ordered shutting down the "war on terror" detention camp at Guantanamo Bay, a lightning rod for criticism both at home and abroad.
"I have ordered the closing of the detention center at Guantanamo Bay, and will seek swift and certain justice for captured terrorists -- because living our values doesn't make us weaker, it makes us safer and it makes us stronger," Obama said.